Lagarde was the French finance minister in the government of then-president Nicolas Sarkozy when she approved an out-of-court settlement with businessman Bernard Tapie to end a long-running dispute between the magnate and the French state.
"I finally wish to show you that I am not guilty of negligence, but that I acted in good conscience, in confidence, with the sole objective of the general interest," Lagarde said on Monday at the start of her trial in Paris.
She added that she was "deeply shocked" by what she called the "aggressiveness" of the Court of Justice of the Republic (CJR). Her trial is only the fifth to be held before the CJR, a special tribunal created in 1993 to try cabinet ministers.
A panel of 15, including 12 lawmakers from both the lower and upper houses of parliament, is to hear the case, which is scheduled to run until December 20.
"I do not intend to be silent," she told the head of the court, Martine Ract Madoux.
Lagarde took notes as the judge summed up the legal saga that led to the charges against her. A lawyer for Lagarde, Patrick Maisonneuve, called for a delay in the proceedings, arguing that it did not make sense for her to face trial while a separate investigation in the broader case was still underway. However, the court decided to proceed.
The case
Lagarde stands accused of negligence over the 400-million-euro ($440-million) payout to Tapie, who backed Sarkozy in the 2007 presidential race. Lagarde is accused of her negligence causing a loss worth millions of euros to French taxpayers. The trial is widely seen as a test case for the financial liability of French politicians and public servants.
The Tapie-Crédit Lyonnais scandal is in the focus of the trial. Lagarde is blamed for the misuse of public funds by improperly approving a move to allow an out-of-court arbitration in the dispute with Tapie that could not be appealed.
The arbitrators ruled that Tapie was entitled to 400 million euros in compensation from taxpayers. Lagarde could face up to one year in prison and a fine of 15,000 euros.
Endless legal saga
The scandal started in 1993. At that time, Tapie was minister for urban affairs and had to sell his stake in sports company Adidas to avoid a conflict of interest. Crédit Lyonnais, which was then controlled by the French state, sold Tapie's stake on his behalf for approximately 472 million euros. One year later, the bank sold it for almost twice that amount. But because Tapie didn't receive a single cent from the additional 400 million, he went to court.
Years later, he was awarded more than 100 million euros in damages by a court. But the verdict was revoked by a higher court. Tapie then suggested taking the case to an arbitration court. It was unusual that Lagarde complied, because the case had already been ruled on by regular courts and public funds were involved.
Fraud and embezzlement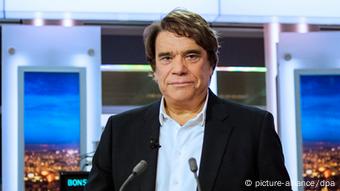 Bernard Tapie has to stand trial in a separate court case with four other defendants
Furthermore, the French judiciary then revoked the verdict of the arbitration court and ruled that Tapie was to pay back the money, because the arbitration court had not been truly independent. One of the arbitrators was supposedly close to Tapie. The judge and Tapie, as well as four other individuals have been accused of organized fraud, embezzlement of public funds or of contributory fault. This seperate trial is going to start in March.
Lagarde is not accused of having known about the suspected fraud. But the French Court of Justice of the Republic, a special court that tries ministers for crimes in office, accuses Lagarde of having been unprepared and badly informed. She allegedly ignored several hints by an agency that manages assets of the French state. This agency had advised against the use of an arbitration court. The court even called the rationale of Lagarde's decision "outlandish."
'She acted like an entrepreneur'
The accusation of negligence was vigorously rebuffed by a member of Lagarde's IMF team. "Any company leader would have made exactly the same decision," the staff member said. "This lawsuit has been going on for almost 20 years and has produced more than 30 million euros of court costs." On top of that, even the prosecutor had advised the Court of the Republic against starting a trial.
While Lagarde's team has said that a witch hunt is underway, others think differently: they fear the verdict could be way too soft, because the Court of the Republic is an unusual institution. It was founded in 1993 to try ministers for crimes committed while in office and is made up of a panel of judges consisting of twelve lawmakers - six from the lower house, the National Assembly and six from the higher house, the Senate - as well as three judges or attorneys. The Court has only presided over four cases so far. But the verdicts were considered to be rather soft by many lawyers.
A special empathy for fellow politicians?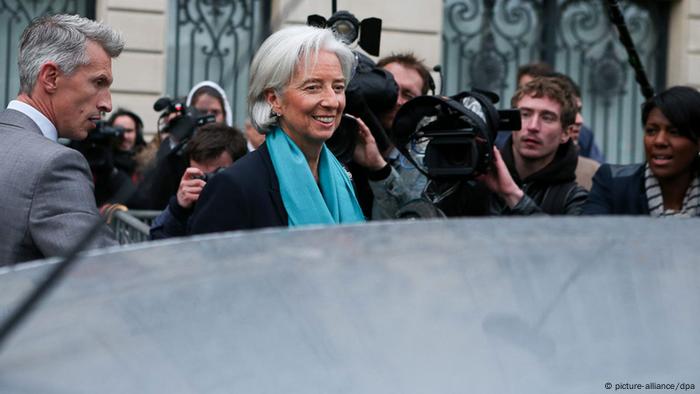 Christine Lagarde leaving the Cour de Justice de la Republique in Paris in May 2013 - after almost twelve hours of testimony
"Of course, the lawmakers are from different parties and backgrounds and thus are supposed to be independent in their decisions," said Eric Alt, a lawyer and vice president of the Anticor association, which fights against corruption. "But because they are politicians, they certainly have a special empathy for fellow politicians and tend to be lenient with their peers." According to Eric Alt, politicians should stand trial for all of their offences in regular courts.
Céline Parisot, the general secretary of France's largest union of legal professionals, the Union Syndicale des Magistrats, agrees. Nevertheless, she thinks that this trial has also some benefits: It proves that there is a certain willingness to hold French politicians accountable. And that could not be taken for granted in France. "In our country, only very few politicians are convicted, so they can not be elected again. That's a real problem," she said. "We are convinced that the voters have to sanction the politicians, not the judiciary system. But this only works in a few cases. Many convicted politicians are elected again."
A legal precedent?
But Bruno Dondero, a law professor at Sorbonne University in Paris, is not convinced that the trial will help France to get ahead. First of all, the charge of negligence was delicate. "Refering to this paragraph is a slippery slope and it could generate a precedent," he said. "After all it would mean that every minister could be held accountable for unintended consequences of his actions in office. After that, no minister will dare to make political decisions anymore!" More importantly, it would be advisable to wait for the outcome of the separate court case against Tapie and his possible accessories. Only if the embezzlement of public funds can be proved will there be a legal basis to try Lagarde for her negligence resulting in the misappropriation of public funds.
IMF chief Lagarde's team seems to be optimistic. "We all hope that she will return with a bottle of champagne and this whole affair will be settled once and for all," one of her staff members emphasized. In the meantime, her tenure has been extended by the IMF - for five more years.