At the turn of the millennium, SC Paderborn were playing in the fourth tier of German football. By 2014, they had fought their way up to the Bundesliga. Four years later, they're back in division three. And, in fact, they are fortunate to be there.
The team from the city of 150,000 people, located between Dortmund and Hanover, was technically relegated to the fourth tier regional league last season after finishing third-bottom. However, their league status was dramatically saved when 1860 Munich's major investor refused to provide the funds for their third-division license.
Six months after almost plummeting back into amateur football, Paderborn have a four-point lead at the top of division three and are odds on to return to the second Bundesliga. Only football can produce such stories.
David vs. Goliath
And so, on Tuesday evening, the third division leaders welcome the Bundesliga leaders and head coach Steffen Baumgart is confident that his team, who have already knocked out second-division St. Pauli, Bochum and Ingolstadt to reach the quarterfinals, can cause the biggest upset of all.
"We're going to approach the game in the same way we have been doing all season," he told a press conference on Monday. "We know it won't be easy against such a powerful and superior opponent but we want to be brave and create our own chances."
Paderborn decided against moving the game to a bigger stadium and the 15,000 available tickets were immediately snapped up. Bayern Munich received over 17,000 applications for their allocation of 1,500 away tickets alone.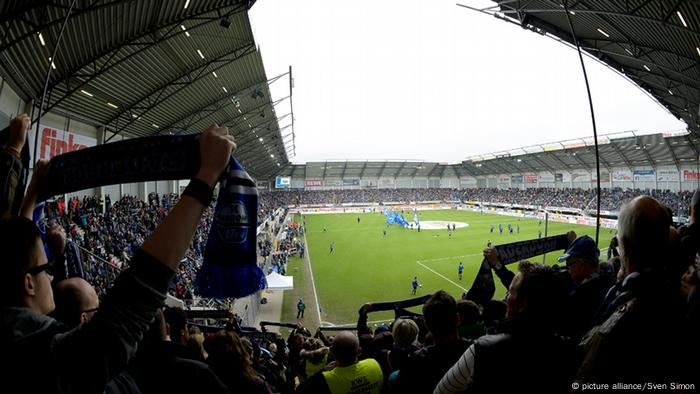 Paderborn's Benteler Arena was sold out weeks ago
Home advantage
"It's absolutely vital that we have a home game, in our stadium, in our home," Baumgart said. "You don't leave your own home just because you might get five or six more fans elsewhere and make more money."
"We've earned this home tie," he continued. "Not just the team, but the fans, the club, the whole city. It's been a difficult few years but now we are aiming to reach the semifinal."
Paderborn will be counting on their supporters to make the occasion as difficult as possible for Bayern, but Baumgart knows that they are facing a far superior opponent. Bayern may be without the injured Arturo Vidal and Thiago Alcantara, while Javi Martinez is a doubt, but the German champions' threat comes from all over the pitch.
Asked if he had a plan to stop Robert Lewandowski (24 goals in 29 games in all competitions this season, including two in the cup), Baumgart laughed.
"How to stop Lewandowski? I don't think he's the only issue! No, we don't have a specific plan for him, but we plan to remain compact as a team and work together, as we have all season."
"The lads' task is to create chances; just sitting back won't get us anywhere," he continued. "And if Lewy does score a hat trick, then I hope we'll score four!"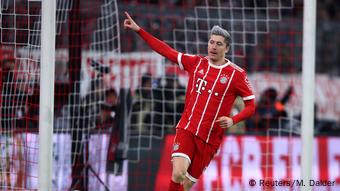 "If Lewy scores three, we'll score four!"
Historic humiliations
The reigning Bundesliga champions and 18-time German Cup winners have overcome two of the country's top teams in RasenBallsport Leipzig and Borussia Dortmund, and will be hoping to avoid a repeat of previous cup humiliations.
In November 2000, cup holders Bayern were knocked out on penalties by fourth-tier Magdeburg. Six years earlier in 1994, a Bayern team that included Oliver Kahn, Markus Babbel, Dietmar Hamman and Lothar Matthäus were beaten 1-0 by third-division TSV Vestenbergsgreuth.
In 1990, they suffered an embarrassing first-round exit at the hands of minnows FV Weinheim. The Bayern Munich coach on that day? Jupp Heynckes.
"I'm not thinking about that at all," said the 72-year-old, who is now in his fourth spell as head coach in Munich. "That was another era altogether."
"And that's how it will stay," added captain Thomas Müller. "With our mentaltity and the way in which we play, we won't fail."
"We have big ambitions," Heynckes continued. "A club like FC Bayern cannot allow itself to pull the handbrake so we're going into this game fully motivated."
As always in such David vs. Goliath cup ties, Goliath can't really win. But for David, there's absolutely nothing to lose.
DFB Pokal quarterfinal draw in full
SC Paderborn vs. Bayern Munich (Tues 18:30 CET)
Bayer Leverkusen vs. Werder Bremen (Tues 20:45 CET)
Eintracht Frankfurt vs. Mainz 05 (Wed 18:30 CET)
Schalke 04 vs. VfL Wolfsburg (Wed 20:45 CET)