The European Commission expressed trepidation on Friday, December 30, after Hungary passed controversial banking reforms which critics claim increases the government's influence over monetary policy and limits the independence of Hungary's central bank.
"We will be assessing the legal scope of the new laws," a spokesman for the EU's executive arm said. "We have reiterated our concerns to the Hungarian authorities in the past few days. Of course the commission remains open to help Hungary in fully implementing EU law."
Among a number of internationally criticized laws, the Hungarian parliament overwhelmingly passed the central bank legislation by 293 votes to four despite earlier warnings from top officials within the European Union, the European Central Bank and the International Monetary Fund (IMF).
When implemented, it will see the central bank disappear as a separate institution and give the Hungary's Prime Minister Viktor Orban the power to name the central bank's vice presidents. It also increases the number of political appointees to the monetary council, which sets the country's interest rates.
Although many of the most controversial rules remain, several modifications were made to the bill ahead of the final vote to comply with requests from the European Central Bank.
Financial help in jeopardy
Earlier this month, the prime minister's insistence on pressing ahead with the legislation prompted the EU and IMF to withdraw from preliminary talks over a financial settlement sought by Hungary.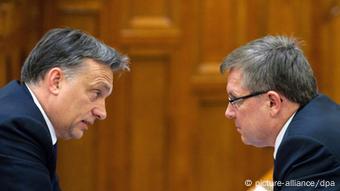 Viktor Orban (left) has fervently defended the new legislation
Budapest now risks loosing the credit lifeline worth between 15 and 20 billion euros ($20-25 billion) which economists claim is urgently needed to shore up the country's financial markets. The independence of national central banks is also a crucial condition to enter the eurozone, which Hungary is seeking to join.
Hungary's forint currency responded nervously to the adoption of the law, tumbling to 315.5 against the euro - close to an all-time low - before recovering slightly.
Prime Minister Orban, however, downplayed concerns about the potential risk to securing international financial aid.
"The IMF negotiations are important but not crucial," Orban said on state radio on Friday. "If the IMF gives us a safety net, we will face the next period with greater self-confidence and greater security, but if such an agreement is not reached, we will be able to stand on our own feet."
Parliament also adopted a law which holds the opposition Socialists accountable for crimes committed by the former ruling communist party. It now considers it and its successors "criminal organizations."
Author: Charlotte Chelsom-Pill (AFP, Reuters, AP)
Editor: Toma Tasovac