Europe's biggest bank's net profit for 2016 was $2.48 billion (about 2.34 billion euros) compared with $13.52 billion (12.77 billion euros) in 2015 - a drop of 82 percent.
In the most recent quarter, the bank had a $3.45 billion (3.28 billion euros) pre-tax loss. HSBC's annual revenue fell 18.5 percent to $48 billion (45.3 billion euros).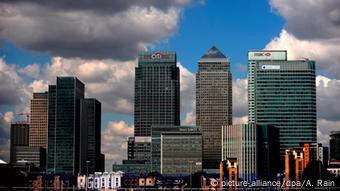 Other UK banks are also feeling the pinch of Brexit
HSBC chairman Douglas Flint said that geopolitical changes in the past year had contributed to "volatile financial market conditions."
"We highlight the threat of populism impacting policy choices in upcoming European elections, possible protectionist measures from the new US administration impacting global trade, uncertainties facing the UK and the EU as they enter Brexit negotiations," Flint said in his statement, which was filed to the Hong Kong stock exchange.
In 2015, HSBC (Hongkong and Shanghai Banking Corporation) announced a major overhaul to cut costs, getting rid of 50,000 jobs worldwide and departing from unprofitable businesses. The bank also shifted its focus to Asia.
However, it also made headlines last year for being part of a cartel fined by the EU Commission for rigging the Euribor rate. In the past the bank has been embroiled in a lawsuit for failing to apply money laundering controls, to the benefit of drug cartels in Mexico.
HSBC warned that it expected further uncertainty this year.
Brexit looms large
Flint stressed the impact of the UK's impending exit from the European Union, reaffirming that "current contingency planning suggests we may need to relocate some 1,000 roles from London to Paris progressively over the next two years, depending on how negotiations develop."
The staff that would be moved to Paris is accredited with generating about 20 percent of HSBC's overall revenue.
Other banks have also been struggling to maintain profits under the long shadow cast by the negotiations, as fears of a "hard Brexit" manifesting have only been strengthened by UK Prime Minister Theresa May's recent comments. US bank JP Morgan is expected to shift 4,000 employees away from its offices in the UK, according to a recent report on CNN Money.
ss/se (AP, AFP)