"Manual scavenging" - the cleaning of human waste from open roads and dry pit latrines by communities considered low-caste - is still being practiced by hundreds of thousands of people in India, said Human Rights Watch (HRW) in a report released on August 25. The 96-page document, titled "Cleaning Human Waste: 'Manual Scavenging,' Caste, and Discrimination in India," describes the barriers people face in leaving manual scavenging, including threats of violence and eviction from local residents but also threats, harassment, and unlawful withholding of wages by local officials.
Scavenging is mostly carried out by a sub-group of the Dalits, an outcast community also known as "untouchables" within India's ancient system of caste hierarchies. The practice still thrives despite a highly-publicized law introduced last year to put an end to it. "Untouchables" are often impoverished, shunned by society and forbidden from touching Indians from other castes, or even their food.
For the report, HRW interviewed more than 135 people, including more than 100 people currently or formerly working as manual scavengers in the Indian states of Gujarat, Madhya Pradesh, Maharashtra, Rajasthan, and Uttar Pradesh.
Meenakshi Ganguly, South Asia director of HRW who co-authored the report, says in a DW interview local authorities are frequently complicit in the discrimination against this segment of the population and calls on New Delhi to implement existing legislation aimed at assisting manual scavenging community members to find alternative, sustainable livelihoods.
DW: What sort of discrimination do Dalits still have to undergo in India today?
Meenakshi Ganguly: Historically, civil, social, and economic life in India has been regulated by caste - a system of social stratification defined by descent. Political and rights movements have broken some barriers, but caste continues to be used to justify discriminatory, cruel, and inhuman treatment inflicted upon millions of Indians - especially in areas of rural India where caste-designation still dictates rigid roles and entitlements.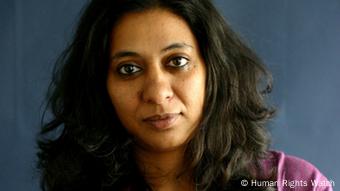 Ganguly: 'Caste discrimination is rooted in a longstanding custom that crosses religious lines'
Dalits are relegated to the bottom of the caste hierarchy. In parts of India, Dalit communities are still denied access to community water sources, served tea in separate cups, barred from entering shops, excluded from temples, and prevented from taking part in community religious and ceremonial functions.
The community that is covered in our report is a sub-caste among Dalits who work as manual scavengers. They manually dispose of human excrement and perform other unsanitary tasks - practices that are now forbidden by law. Women usually clean dry toilets, men and women clean excrement from open defecation sites, gutters, and drains, and men are called upon to do the more physically demanding work of cleaning sewers and septic tanks.
This community faces social exclusion irrespective of its religion, and is traditionally limited to livelihoods viewed as deplorable. It faces discrimination even among Dalits.
Why do these deep-rooted patterns of caste discrimination still exist today?
Caste discrimination is rooted in a longstanding custom that crosses religious lines. The Indian government has passed laws and adopted policies aimed at ending caste discrimination. But much more needs to be done to address the widespread failure to implement these measures and the role of local government officials in perpetuating discriminatory practices. In fact, quite often, caste is a factor in electoral politics, which also exacerbates differences.
How many people are affected in India by this and where are they mostly based?
According to the 2011 census, there are 167 million people, about 16 percent of the population, designated as members of the Scheduled Castes under Indian law. They are eligible for special affirmative action benefits in government programs. Muslim and Christian Dalits, who may also face caste-based discrimination, are not considered Scheduled Castes. They are not included within the census and are excluded from affirmative action and other protection.
Due to widespread denial at the state and local level that manual scavenging persists, we do not have reliable estimates on the number of people engaged in caste-based excrement cleaning. We have recommended that the government conduct a proper survey to identify those that continue to practice manual scavenging, or did so until recently.
This survey should not be limited to those that clean dry toilets but include people who clean open defecation and excreta from open drains, pits, and any other area; and not only individuals who belong to Scheduled Castes, but also members of Muslim and Christian communities engaged in the practice.
Why have successive Indian governments have so far failed to stop this discrimination?
As is often the case in India, strong, rights-friendly laws are enacted, but implementation at the community level remains flawed. The Indian constitution abolished "untouchability." There are specific laws against caste-based discrimination such as the Scheduled Castes and Scheduled Tribes (Prevention of Atrocities) Act, 1989.
A 1993 law criminalized employment of manual scavengers to clean dry latrines. In 2013, a new law was enacted to forbid all forms of manual scavenging, beyond just dry latrines and recommends assistance to the communities engaged in the practice. In March 2014, the Supreme Court also directed that the state provide assistance to the community.
And yet, as we find in our report, there remain serious gaps in implementation. In fact, village councils and municipalities often perpetuate the practice, restricting the manual scavenging community to these cleaning tasks. We have documented cases where educated members of the community, who are eligible for other employment, were still only assigned to these jobs.
How come no proper modern toilets are installed?
There have been several studies that have pointed to the adverse health impact because of poor sanitation. The government has committed to modernize the sanitation systems and ensure the right to health. To date, however, emphasis has been placed upon toilets without ensuring that modern waste management systems are in place. As a result, excrement is still cleaned manually from open drains, sewers, and septic tanks.
Any initiatives to modernize sanitation must address the discrimination suffered by the community that traditionally practiced manual scavenging. Efforts by civil society, including the Rashtriya Garima Abhiyan (National Dignity Campaign), have focused on "liberating" women from the practice.
They encourage women to burn their baskets and stop this work. In several cases, when they stop, there are threats from dominant caste groups who want their toilets cleaned. Not only do local authorities fail to provide support, in several parts of India, it is the village council that perpetuates the practice, threatening eviction, withheld wages or denial of access to land to graze farm animals when people refuse to continue manual scavenging work.
However, many who have been able to leave manual scavenging said that eventually, when they refused caste-based excrement cleaning, in most such places, sanitary toilets were constructed.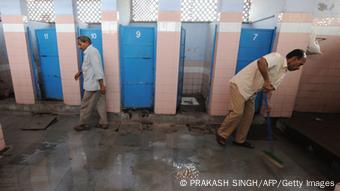 Ganguly: 'Toilets, including public toilets, are woefully inadequate in India'
The government's continued inability to provide individuals the support necessary to leave manual scavenging, however, predictably will undermine the renewed government effort to promote modern sanitation. This is especially true if decisive steps are not taken against local officials who themselves employ people to work as manual scavengers, lessening the urgency of modernizing sanitation practices in their localities.
How big a problem is the issue of sanitation and modern toilets in India, especially in rural areas?
Toilets, including public toilets, are woefully inadequate in India. Men often urinate in the open. There are millions who live on the streets in urban area, and without access to community toilets, simply defecate in open areas.
According to the World Health Organization and UNICEF, in India, more than half population does not have proper access to sanitation, and an estimated 597 million people in India defecate in the open. There has been a growing demand to provide women safe access to toilets.
What is necessary to stop this practice?
We are asking the government to implement laws and policies to end manual scavenging and to hold local officials accountable if they fail to enforce laws prohibiting this discriminatory practice. The government should also assist manual scavenging community members find alternative, sustainable livelihoods as provided under the 2013 act.
Meenakshi Ganguly is South Asia Director of Human Rights Watch.