There are very different opinions on how safe it is to travel to Mexico, and sometimes the debate about the safety of tourists can drift off into the absurd. One example: the US' most recent travel advisory for its neighbor to the south.
"No more travel warnings for most important tourist destinations," Forbes Mexico summarized the new advisory. And Mexican Tourism Minister Enrique de la Madrid rejoiced: "Eighty percent of all destinations in Mexico are safe."
But El Diario de Yucatan wrote: "Five states on the blacklist."
So what's the deal?
In theory, the US government's new travel advisory system is supposed to simplify information released to the public. It puts countries and regions into four categories. They reach from Level 1 ("Exercise normal precautions") to Level 4 ("Do not travel").
As a whole, Mexico, where 23,000 people were killed last year, receives the same classification as Germany: Level 2, which means traveling there is fine, but tourists should "exercise increased caution."
But different states inside the country received very different labels. Mexico's example shows how complicated these categorizations are in practice, especially when political and economic interests play a part.
Traveling to Mexico – 'Yes, but …'
Because of drug cartel activity, the situation in five Mexican states (Tamaulipas, Sinaloa, Colima, Michoacan and Guerrero) can be compared to Syria or Afghanistan, according to the warnings released by the US State Department.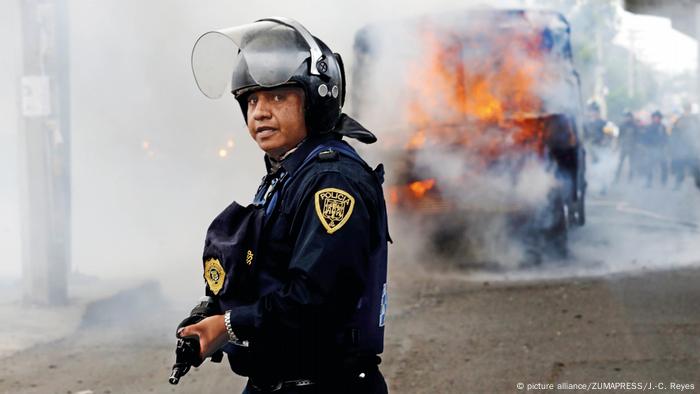 Tourists don't necessarily experience police operations against drug cartels
Another 11 states were marked as Level 3 ("Reconsider travel"), which is the same level assigned to Russia and countries with the highest murder rates in South America, like El Salvador and Venezuela. But Cuba is considered a Level 3 state by the US as well, even though it's actually one of the safest and most peaceful countries in South America.
Popular tourist destinations like Los Cabos in Baja California and the Caribbean paradise of Cancun are exempt from any US travel warnings – even though cartels there have been fighting a bloody battle over dominance in recent months. Baja California saw its murder rate triple in 2017.
In Acapulco, on the other hand, which is located in the state of Guerrero and is thus a no-go area according to State Department criteria, the murder rate has decreased by 50 percent. That's why the "unilateral classification by the US is unfair," Acapulco's mayor Evodio Velasquez said. "In the last two years, not a single foreigner has become victim of a crime here."
Pressure from US tourism industry
As recently as August 2017, the US government had released a travel warning for tourist destinations such as Los Cabos and Cancun. Hotel associations had complained bitterly about the resulting damage to their resorts' image. According to the Mexican Tourism Ministry, reservations by US guests decreased by 20 percent.
The tourism minister traveled to Washington and talked to the US ambassador in Mexico. US hotel chains and airlines probably also urged the government to reclassify the most important destinations as safe, security expert Alejandro Hope told DW.
Bringing in an annual income of 16 billion US dollars (€13.12 billion), tourism is Mexico's third most important industry for bringing foreign currency into the country, after car exports and transfers from Mexican emigrants.
2017 a record year for Mexico
But despite the heated debate, it looks like neither tourists nor tourism companies need to worry.
"All in all, foreigners are safe in Mexico," Hope said. "In 2017, only 150 foreigners were killed, and most of them weren't tourists but lived in Mexico."
He believes that the spiral of violence can't be contained quickly since it comes from a "complex mix of institutional failure and social imbalance."
But vacationers don't seem to mind. 2017 was a record year, with 38 million visitors and a 12 percent increase in foreign guests. Since 2012, Mexico's tourism sector has grown by 70 percent.