Bohdan Sehin was born in western Ukraine in 1976 and is one of the most innovative composers of his generation. Sehin's works combine avant-garde techniques with acoustically stunning effects. The rich folkloric tradition of his home country – music with Slavic as well as Austrian-Hungarian and Galician roots – is an important source of inspiration for him.
One of Sehin's close collaborators is the poet Serhij Zhadan, an activist of the Euromaidan movement and a prominent figure in the Ukrainian free art scene.
DW met Bohdan Sehin in Lviv.
DW: Your work is called "Fantasia Galiciana." Galicia is a historical region located around present-day Lviv. What characterizes the musical heritage of Galicia?
Bohdan Sehin: Mostly the diversity and polyphony of influences: Hungarian, Austrian and Jewish. In Lviv, classical music has always existed alongside street music, folklore. An influential figure was, for instance, Franz Xaver Mozart.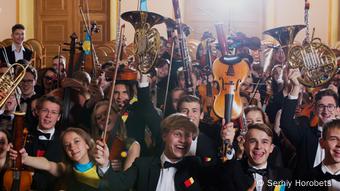 Together in Lviv: young musicians from Germany and Ukraine
Wolfgang Amadeus Mozart's youngest son lived and worked for over 30 years in the city then known as Lemberg – practically his entire life. He founded a choir here that still exists to this day. He conducted his father's Requiem in the cathedral here for the 25th anniversary of his death.
That has influenced the city to this day. The stones remember this, so to speak. Another unique aspect of Lviv's culture is the Batiar [Eds.: a certain class of inhabitants that used to be part of Lviv's subculture].
What is Batiar?
Batiar translates directly as a "true lad" or a "player." At the same time, the term designs a particular form of urban folklore which developed in Lviv in the first decades of the 20th century. It is comparable to the harbor songs from Odessa or Vienna's Heuriger music [Eds.: Heuriger is the name given to a type of wine tavern in Austria, where a whole musical culture emerged].
The Batiar tradition is tightly connected with this music. Just like these other traditions, it was a subculture in itself.
The particularity of Lviv's Batiar music is that the content of the songs often included sharp political satire. After the second forced annexation of West Ukraine into the Soviet Union, Batiar fell into disgrace, but became even more popular in the city itself for that same reason. The Batiar song "You Only Find Something Like This Here in Lviv" was and remains something like the city's unofficial hymn.
Read more: Lviv remembers its Jewish past
In your work, seven accordions are accompanied by an orchestra. Why did you choose this unusual instrumentation?
The accordion or the concertina are, along with the violin and the guitar, typical Batiar instruments. I decided to go with a group of seven accordions and an incomplete symphonic orchestra without winds as I was trying to connect my intuitive impressions of Lviv of the 1920s and 30s with my perspective on present-day Lviv.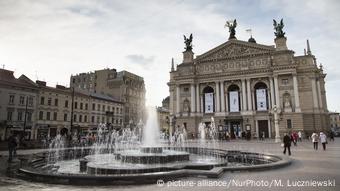 In the heart of the city: Lviv's opera house is considered one of the most beautiful in Europe
Then and now, Lviv has been filled with musical sounds interpreted by different kinds of ensembles and soloists. We do not hear them only in concert halls – actually even rarely – but rather on the streets, in cafés and restaurants. This music is unique; it has its own style and is expressive. This city has its own vibrations, and I can especially feel them when I walk down the old streets, see old houses or meet with old friends to drink coffee. Lviv is famous for its coffee culture…
Read more: Ukraine experiencing a cultural rebirth, says conductor Oksana Lyniv
Your composition, commissioned by DW, will premiere at the Beethovenfest. The requirement for the piece was that it should deal with Beethoven's work. What was your approach?
Beethoven is the Alpha and Omega for every musician – and for me, too: I grew up with the recordings of his symphonies. We had the ones by the Berlin Philharmonic and Herbert von Karajan on vinyl.
As a pianist, I also play many of his piano sonatas. Beethoven's vocal works are also very important to me – his songs for piano and vocals, such as his famous Marmotte, No. 7 from his Opus 52. As a child, I cried while listening to it.
These songs have turned into folk songs, and not only in Germany. When I hear Beethoven's songs I can get an intuitive feeling of the atmosphere of western European cities of that time. And I wanted to reproduce this in my work.
The accordion soloists will be accompanied by the Campus Project orchestra. Half of its musicians are from the German Youth Orchestra and the other half from the Ukrainian Youth Orchestra, under the musical direction of Ukrainian conductor Oksana Lyniv. What do projects like this one mean for Ukraine?
A whole lot. I don't know if it recognized as much in Germany, but for the people here [in Ukraine] it is tremendously important. You could already notice that through the overfilled concert halls. There is also a political meaning to being admitted into the common context of European culture and to being accepted as a partner with equal rights – even if it's just within the context of a concert for now.
Read more: Encounter with Ukraine in the Campus Project
DW has been commissioning original works for the Beethovenfest since 2001, selecting each time a composer from the guest country of DW's Campus Project and the music festival.