A police officer shot an 18-year-old protester in the chest from close range amid clashes in Hong Kong on Tuesday. This was the first known instance of a protester being shot with live ammunition since demonstrations began in early June.
Despite a protest ban, tens of thousands of demonstrators took to the streets as China celebrated 70 years of Communist Party rule. National Day always triggers tensions in Hong Kong, but Tuesday's demonstrations were some of the most intense yet.
In the shooting incident, police and demonstrators clashed in what the police have described as an attack on officers by protesters in Tsuen Wan district. A spokesperson for the police said the officer who fired the shot had feared for his life.
Video footage of the incident appears to show half a dozen police officers in a confrontation with a group of a dozen masked protesters wielding umbrellas and metal poles and throwing objects at the officers. They close in on the lone officer who pointed his gun and opened fire.
The protester falls onto the street, bleeding from below his left shoulder. As a fellow protester is tackled by police while attempting to drag the wounded student away, what appears to be a petrol bomb lands in the middle of the group of officers and bursts into flames.
Police can later be seen treating the victim before paramedics arrive and place him on a stretcher.
At least 66 people were injured on Tuesday, health authorities said, including one other critically injured person.
Read more: Hong Kong: Police fire rubber bullets, tear gas to scatter protesters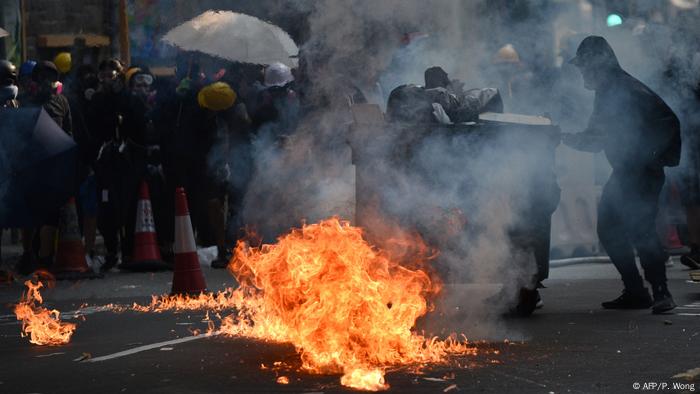 Widespread skirmishes
There were serious clashes in at least six locations across the city, with protesters burning barricades, throwing rocks and petrol bombs, setting fire to subway station entrances, and in one instance throwing corrosive liquid.
Police responded mostly with tear gas, rubber bullets and water cannon. They fired at least five live ammunition warning shots, according to authorities.
"Today we are out to tell the Communist Party that Hong Kong people have nothing to celebrate," said activist Lee Cheuk-yan as he led the downtown march. "We are mourning that in 70 years of Communist Party rule, the democratic rights of people in Hong Kong and China are being denied."
Police said they arrested more than 180 people.
Calls for restraint
Shortly after news of the shooting broke, the European Union called for a de-escalation in the territory.
"In light of the continuing unrest and violence in Hong Kong, the European Union continues to stress that dialogue, de-escalation and restraint are the only way forward," said EU spokeswoman Maja Kocijancic.
Read more: Hong Kong tense as China marks 70 years of Communist rule
British Foreign Secretary Dominic Raab said: "Whilst there is no excuse for violence, the use of live ammunition is disproportionate, and only risks inflaming the situation."
aw, knp/msh (AFP, dpa, Reuters)