In the busy shopping district of Causeway Bay, protesters raised yellow crosses and umbrellas as they sang Christmas carols on Christmas Eve (24.12.2014). "Our Christmas wish is that I want real universal suffrage," the demonstrators shouted.
On Christmas day Hong Kong police announced that 10 men and two women, aged between 13 and 43, had been arrested on charges ranging from assaulting a police officer to failing to produce proof of identity. Officers also used pepper spray and batons overnight on Wednesday to break up the protest, which took place where the last protest site was cleared on December 15
"They caused chaos and blocked roads," the statement said.
The statement also said two police officers were injured in the operation.
The renewed overnight protests were followed on Thursday by demonstrations calling for the release of jailed Chinese Nobel Peace Prize laureate Liu Xiaobo and his wife Liu Xia Liu.

The 58-year-old veteran dissident was involved in the 1989 Tiananmen Square pro-democracy protests and was jailed for 11 years on Christmas Day in 2009 on subversion charges for organizing a petition urging an end to one-party rule.
Autumn protests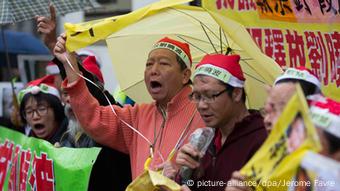 Protesters demanding the release of Nobel Peace Prize laureate Liu Xiaobo
Also on Thursday, Hong Kong's embattled leader Leung Chun-ying made his first visit to the Chinese capital since the sit-ins ended on December 15 to deliver an annual report.
"One of the main points would be related to me and the government's determination to achieve elections for the chief executive in 2017... I believe that the determination of the central authorities has not changed," Leung said before his trip.
Between September and mid-December, thousands of pro-democracy demonstrators took to the streets of the semi-autonomous region. For 75 days, they demonstrated for free and fair 2017 elections, without interference from mainland China.
In late August, the Beijing government announced that candidates for the 2017 leadership elections would first have to be vetted by a loyalist committee.
At their height, the rallies drew tens of thousands of people, but numbers dwindled to just hundreds in the weeks shortly before the protests sites were cleared.
ksb/cd (Reuters, AP, AFP)