On Tuesday, officers wearing helmets and wielding batons cleared 50 meters (165 feet) of Argyle Street in Mong Kok district, where protesters had gathered since September 28. Last week, police removed barricades at a similar camp in the Admiralty district.
"You are already participating in an illegal assembly," officers warned protesters before dousing them with pepper spray from raised platforms. "Right now the police order you all to immediately disperse."
Demonstrators raised their umbrellas against the blasts of the irritant solution and carried right on. "We want real universal suffrage!" they shouted, some wearing helmets, goggles or gas masks. Police made 80 arrests and protests continued late into the night.
'Negotiate a mechanism'
Under a "one country, two systems" agreement that promised Hong Kong a relatively high degree of autonomy for China, the country took the former British colony back in 1997. Following the announcement in September that Beijing would vet candidates in Hong Kong's 2017 municipal elections - the student-led group Occupy Central called for the protests.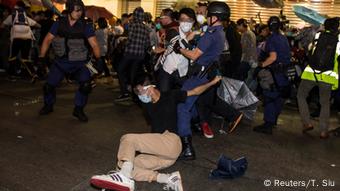 Police have been accused of a violent response
At times, tens of thousands of people have turned out to demand the resignation of Hong Kong city leader Leung Chun-ying and for free elections in 2017. However, crowds have shrunk and commuters have grown weary of transport disruptions.
Protests have remained mostly orderly, but the spectacle of a group smashing up an entrance to the city's legislature last week further sapped public support. Following the incident, a Hong Kong University poll of 513 people found that 83 percent of respondents wanted the road blockades to end.
Talks between protesters and senior Hong Kong officials in October proved fruitless after students accused the government of failing to make any meaningful offers, and municipal officials have taken no earnest steps toward a meeting since. On November 15, officials in Beijing prevented protest leaders from flying to the mainland for talks.
"I haven't completely closed the door on negotiations with the Hong Kong Federation of Students," Chief Secretary Carrie Lam, Hong Kong's second-ranking official, told reporters Tuesday in Beijing. Lam added: "If student representatives can concretely negotiate a mechanism where they leave voluntarily, we would welcome it."
A site in the Causeway Bay district still remains, however, and the demonstrations show no sign of ending. "Tomorrow will be the main event," Albert Chan, a lawmaker with the People Power party, said on Tuesday. "There will be more people joining the resistance. Maybe there will be more arrests tomorrow."
mkg/se (Reuters, AFP, dpa, AP)