The day after former Brazilian President Lula da Silva was questioned by federal police, his successor and incumbent Dilma Rousseff flew by presidential jet to visit him in Sao Paulo.
While Lula had been obliged to answer questions in the country's on-going multibillion-dollar corruption probe on March 4, he was not under house arrest or formally charged with any crime.
Yet the president's decision to travel from Brasilia to visit the 70-year-old Workers' Party hero revealed how much power Lula still commands and how increasingly sidelined Rousseff has become.
So far, she has avoided being directly implicated in the Lava Jato ("Car Wash") operation, a bribery scheme that channeled billions of dollars from state-controlled oil company Petrobras and which is under investigation.
But with close allies arrested, an economy that shrank by 3.8 percent last year and a looming impeachment battle, Rousseff has struggled to unite her support base. A recent survey found her approval rating had fallen to 11 percent.
New impulse for Workers' Party
For many political analysts, Lula's questioning by police, who used "coercive conduction" to order his cooperation, gave his party fresh stimulus.
"It's a major development for Brazil's politics, a turning point in the history of the Workers' Party and for the future of the left wing in South America," said Gabriel Petrus, political analyst in Brasilia with Barral M Jorge consulting firm.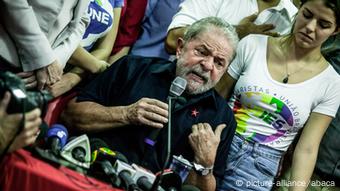 Supporters have rallied behind Lula
"When you see Lula defending himself on TV, it's kind of Lula's revival. He's not telling the people 'I'm untouchable,' but he's telling people, 'I'm the victim of this process.'"
Lula's response to his interrogation was swift: Within hours, he was at the Workers' Party headquarters, and within a day, the president was at his side as the pair greeted supporters from the balcony of his house.
"For the first time, he's now at the front of the stage, and who is backstage? Dilma Rousseff. She flew to Sao Bernardo do Campo to see Lula. Normally, Lula would fly to Brasilia," Petrus added.
Opposition re-energized
Lula's rallying defense was enough to mobilize a counter-movement to the growing calls from the street for impeachment. With anti-Rousseff protests organized for March 13, Lula's supporters adopted International Women's Day on March 8 to begin the fight back, with another pro-Workers' Party demonstration expected on March 18.
On Thursday, prosecutors filed charges of larceny, misrepresentation and money laundering against Lula, alleging he concealed the acquisition of a triplex registered in the name of engineering contractor OAS, which is the subject of the Lava Jato investigation. The prosecutors also requested the preventive arrest of Lula, which will be decided by a judge.
His defense pointed to political bias, saying the charges were designed "to tarnish the image of Lula."
Meanwhile, the former president is understood to have turned down an offer from Rousseff of a ministerial position that would give him special privileges and allow him a Supreme Court trial.
But many questioned whether sympathy for the ever-charismatic Lula would translate into support for his beleaguered protégée Rousseff.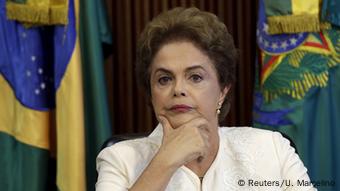 Rousseff has been unable to shake calls for impeachment
And with a plea bargain reportedly struck by arrested Workers' Party senator Delcidio Amaral that allegedly implicated both Rousseff and Lula, the opposition has also been re-energized.
Opponents have seized on claims that Amaral's testimony accused Rousseff of knowing that Petrobras contracts had been inflated over the purchase of a refinery in Pasadena and of interfering in the investigation, which she has always denied.
Workers' Party losing support
Lincoln Secco, a history professor at the University of Sao Paulo and the author of the book "Workers' Party History," said the treatment of Lula would boost support for the party but may not be enough to save it.
"Lula's personal defense is not going to guarantee a permanent mobilization," Secco said. "There's no doubt this will give strength to the impeachment movement. But impeachment will be fundamentally decided on the streets.
"It's difficult to evaluate because the country is very divided. These protesters are against the government in any circumstances."
But the Workers' Party has already lost the support of an important ally, the Landless Workers' Movement (MTST), which has vowed two months of protests against the government over claims it has let down workers with pension reform and fiscal adjustments.
"March and April will be months of urban occupations throughout the country and large protests against the attacks on social rights promoted by Dilma's government and the National Congress," the Landless Workers' Movement manifesto said.
Meanwhile, the case for impeaching Rousseff has stalled until a special commission is established to preside over it. Opposition leaders in the Chamber of Deputies and the Senate vowed to obstruct voting until the process was moved forward.
No plan B
While political observers expect Rousseff to survive the impeachment campaign, there is a consensus that regardless of the outcome, it is an historic moment for the Workers' Party.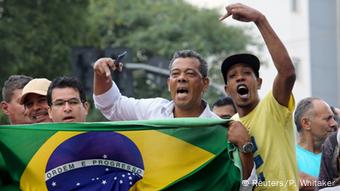 Protests are expected to continue
"The Workers' Party will come out of this crisis as a very different, and much smaller, party," said Andrea Murta, associate director at the Atlantic Council's Adrienne Arsht Latin America Center.
"In hindsight, it was a mistake for the Workers' Party to let the party be transformed into a reflection of Lula. It will take a long time, and new names, to bring the party back into the space it used to occupy in the Brazilian political arena.
"The problem is that Brazil has no plan B. Who will lead the country if we take Dilma out? Brazil is not ready for impeachment - largely because it has no one to lead the country right now."