The goal of introducing cleaner, more fuel-efficient engines has, for many people, never been so desirable -- mainly because the cost of filling their car's gas tank has never been so high.
In Europe, gas prices are up more than 10 percent over last year and now seem to be climbing by the day as a result of the devastation Hurricane Katrina caused to the United States' oil industry last week.
In Germany, the average price of fuel is currently hovering at around 1.46 euros ($1.83) per liter of super.
But environmental activists are pointing to the silver lining. The higher gas prices mean that demand for more fuel-efficient cars with smaller engines should rise. In the run up to the IAA International Motor Show in Frankfurt (Sept.15-25), car manufacturers are increasingly talking about alternative or hybrid engines; cleaner diesel, biomass and hydrogen-power are the current buzzwords.
Getting aboard the hybrid train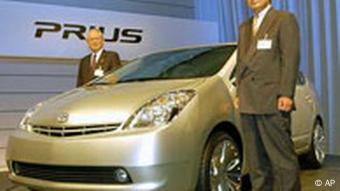 Toyota Motor Corp. executives Masatami Takimoto, left, and Hiroyuki Watanabe pose with a model of the hybrid Prius sedan.
When it comes to hybrid engines -- a combination electrical and conventional combustion engine -- German carmakers could find themselves playing catch-up for the next few years. Japanese manufacturer Toyota has had great success with its Prius hybrid in the US, and is now looking towards the growing market in China for even more profits. The company is planning 10 new models with hybrid engines.
Sales of hybrids in Europe have lagged far behind the US and Japan, Ferdinand Düdenhoffer, director of the Center for Automotive Research in Gelsenkirchen told the Süddeutsche Zeitung. "One reason for that is the strength of diesel engines, which are hardly present in the US and Japanese car markets," he said. The other reason is the lack of hybrid models from European carmakers.
Europe's largest carmaker, Volkswagen, is reportedly looking for a partnership with Porsche, which hopes to display its progress in hybrid technology at the IAA.
However, scepticism towards hybrids remains in Germany. "The hybrid motor is a little bit overrated," said automotive industry analyst Willi Diez. "It doesn't use that much less gas than the modern diesel engines that German manufacturers have been instrumental in developing and promoting."
Even if demand for hybrids remains sluggish in Europe, it will be essential for German carmakers to get up to speed with hybrid technology if they want a part of the market in North America and Asia.
"German producers have to act quickly now to regain lost ground," Diez said.
Hydrogen the fuel of the future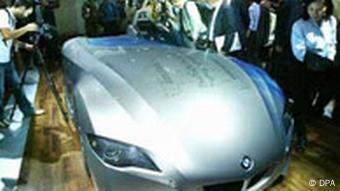 Journalists surround the new hydrogen-fuel powered BMW H2R car at the 2004 Mondial de l'Automobile Motor Show in Paris, Thursday 23 September 2004.
Volkswagen is looking further afield for alternative engine concepts, betting on synthetically produced fuels from biomass for the medium-term. In the long-term, however, German manufacturers are interested in the promise of hydrogen-powered cars, even if advancements in this area have been slower than anticipated.
"We'll almost certainly have to wait for about 20 years (for the first marketable hydrogen car)," said a VW spokesperson. In the meantime, the company is developing its hydrogen technology with its Touran HyMotion prototype -- a car with an electric motor that draws its power from a fuel cell.
Mercedes has 180 patents pending in the area of fuel cell technology, and BMW is racing ahead with its H2R hydrogen-powered prototype.