Hermann Hesse was 40 years old when his novel Demian was first published in 1919 under the pseudonym Emil Sinclair — a name that clearly was inspired by various references that had played a major role in Hesse's life. The name "Sinclair," for instance, is an allusion to Isaac von Sinclair, who was born in 1775 — more than a century prior to Hesse.

A German diplomat and writer, Isaac von Sinclair was a close friend of Friedrich Hölderlin — the German poet and philosopher who is known the world over for his idealistic writings on love and pain. These topics — philosophy, friendship, love and loss — all play a major role in Demian, which somewhat surprisingly was written as a piece of young-adult literature.
The story deals with Emil Sinclair's youth and is told in the first person. Emil grows up in a small-town environment where all aspects of life are rigorously dictated by religion. This is a likely reference to Hesse's own hometown of Calw in Swabia.
Desperately seeking the meaning of life
Emil Sinclair's everyday life against this setting is orderly, sheltered and "light." But there is also a dark side, which he increasingly appears to feel himself drawn to. It's the underworld of his town that is characterized by an abundance of servants, ragamuffins, thieves and petty criminals. As Sinclair dives deeper into this world, he gets caught up in a web of his own lies, making him a target for blackmail.
Hermann Hesse painted this landscape in 1919, the same year that "Demian" was published
It isn't until he makes friends with Max Demian, a new classmate, that he manages to free himself from this state of entrapment.
Hesse's story details nothing less than a young man looking for the meaning of life. Yet Emil's coming-of-age simply doesn't want to take place in any predictable, straight-forward fashion.
"I was living in a self-destructive riot of sensuality, and while my schoolmates saw me as a leader, a devil of a fellow and a damned sharp and clever guy, deep inside me hid a timid soul fluttering with fear."
The source of suffering
Time and again, Emil's friend Demain crops up as the one who helps him find a new direction, a new philosophy in life — a system of ethics that doesn't use pre-determined standards to distinguish between good and evil, but rather, attempts to integrate the two into one concept.
"I think I like music because it has so little to do with morality. Everything else is moral or immoral, and I am looking for something that isn't. Morality has only ever made me suffer."
A new role model enters Emil Sinclair's life: Demian's mother Eva. Not only does she stimulate him intellectually, but she soon also becomes the object of his desires. Those desires, however, remain unfulfilled. "Frau Eva" suggests that she is merely an allegory for what he wants to become.
Soon thereafter, World War I erupts and Sinclair is sent off to the front. He is hit by a grenade and suffers severe injuries. During the moment of the explosion, he undergoes a rebirth of sorts. Waking up in the military hospital, he is unexpectedly reunited with Demian, who is about to succumb to his injuries. In that moment he realizes that he can say goodbye to his friend and guide; Sinclair has finally found himself.
Psychoanalysis by way of poetry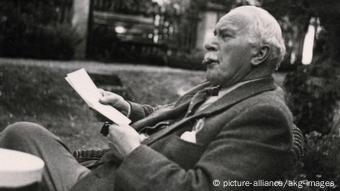 "Demian" was heavily influenced by Carl Jung's work on psychoanalysis
Hesse's coming-of-age story was published just after the end of World War I. The misery of the war is clearly communicated in the novel, as is Hesse's interest in Jungian psychoanalysis. While working on the book, Hesse permitted a student of Carl Jung's to "treat" him, which would explain why literary scholars have referred to Demian as a "poetic incarnation" of Jung's work:
"Everything we collected led us to the same critique of our time and the Europe of our day: its titanic endeavors had created powerful new human weapons but had finally ended in a profound and scandalous desolation of spirit. It had conquered the whole world only to lose its own soul."
When Demian was first published, Sinclair's journey was intended to serve as an example to Hesse's readers on how to seek and find a way out of the lack of control that the pain and destruction of war had brought into their lives. So many young men who returned from the trenches remained deranged. They each sought their own new direction, having had their standards of good and evil shaken so violently. Hesse's novel captured their sentiments; they came to identify with Emil Sinclair and his quest to find himself.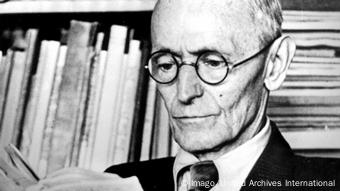 Hesse received the Nobel Prize for Literature in 1946
German novelist Thomas Mann was one of the first intellectuals who realized that Demian "touched so many raw nerves at that time with an uncanny sense of precision, and thus moved an entire young generation with grateful delight, who believed, however wrongly, that this severely insightful author must be a messiah from their midst."
Mann even went so far as to compare the profound effect Demian had to the impact of Johann Wolfgang von Goethe's first novel, The Sorrows of Young Werther.
Hesse, the rebel
In 1920, it was revealed that Hesse was the person behind the pseudonym Emil Sinclair. He had previously used the alias to write critically about the war. This empowered him to speak about his motivations for writing his novel: "These are difficult times for young people. There appears to be a pervasive ambition everywhere to make all people uniform — while restricting their individuality as much as possible. The human soul rightfully rebels against this push, which is the foundation to Demian's journey."
That push to force people into uniform roles, however, doesn't appear to have changed. The recent rise of nationalism and populism in many parts of the world are testimony to the fact that Hesse's works remain as relevant as ever. In fact, during these times of shifting standards and values and intensifying crises, the issues addressed in Demian could not be any more topical and fitting.

Hermann Hesse: Demian, Penguin Classics, (German title: Demian, 1919). English translation: Ralph Freedman
Hermann Hesse was born in Calw in 1877. His writings were blacklisted under the Nazi regime, and even after World War II, he failed to gain widespread recognition in Germany. Meanwhile, his writings rose in popularity in the United States in the 1960s, which eventually also made waves back in Germany as well. In 1946, fresh on the heels of the end of World War II, Hesse was given the Nobel Prize in Literature. In 1955, he received the Peace Prize of the German Book Trade. His bibliography includes more than two dozen publications, including the international bestsellers Steppenwolf, Siddharta, and Demian. Hesse died in 1962.