The 31-year-old Marten has made a name for herself as an exciting young British artist with what the Tate Britain's director Alex Farquharson called the "virtuosity" of her work.
"Our global outlook is becoming ever more precarious and from the stripping of arts and creative writing programmes in schools syllabuses to the ever prominence of alt-right groups gaining a very visible and frightening political platform for a xenophobic, homophobic and racist outlook on the world," Marten said in her acceptance speech.
"I think as artists today and as people in this environment, we are deeply, deeply privileged to be sitting here, with a community whose lifeblood is a sort of diversity and exuberance," she added.
Her work will remain on show at the Tate until the beginning of January.
The 25,000 pound ($32,000 / 29,560 euro) prize that Marten receives will be shared with three other finalists - Anthea Hamilton, Michael Dean and Josephine Pryde. Marten had previously commented "the hierarchical position of art prizes today is to a certain extent flawed."
Marten said the arrangement would be made "discreetly between the four of us." Each of the finalists receives 5,000 pounds in their own right.
After receiving her prize from the the writer Ben Okri at a ceremony at London's Tate Britain gallery on Monday, Marten said "the shared thing is very good." The artist shared the prize money she won at the inaugural Hepworth prize for sculpture last month.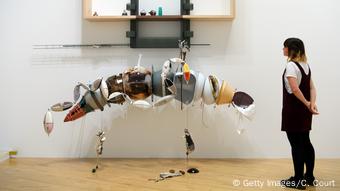 One of Helen Marten's installations at the Tate
The award was unexpected, "I wasn't expecting" to win, she said, but could not think of "a more brilliant and exciting shortlist of artists to be part of."
Marten makes detailed and artistically complex structures out of an array of materials - some of which she finds around her as she works. They include nails, shoe soles and bicycle chains.
Impressed judges
This year's judging panel was chaired by Tate Britain director Alex Farquharson and his fellow judges were Michelle Cotton, director of Bonner Kunstverein, Bonn; curator Tamsin Dillon; Beatrix Ruf, director of the Stedelijk museum, Amsterdam; and Simon Wallis, director of the Hepworth Wakefield.
"The judges were impressed by the complexity of the work, its amazing formal qualities, its disparate materials and techniques and also how it relates to the world... how it often suggests meaning, but those meanings are all in flux somehow," Farquharson said. "One image, one form becomes another."
The judges said that Marten's work reflected "the condition of the world."
The prize, established in 1984, is awarded to a British artist under the age of 50. Each year, four artists are shortlisted, and the prize awarded for an outstanding exhibition or other presentation in the preceding year. Marten was nominated for projects including Lunar Nibs at the 56th Venice Biennale and her solo exhibition Eucalyptus Let Us In at Greene Naftali in New York.
The founders of the prize chose nineteenth-century artist J.M.W. Turner as a figure who had been innovative and controversial in his own day, but also gone on to be seen as one of the greatest British artists. Turner had also wanted to establish a prize for young artists himself.
jm/bw (AP, dpa)