The watercolor painting "Marschlandschaft mit rotem Windrad" ("Marsh Landscape With Red Windmill"), by expressionist painter Karl Schmidt-Rottluff, was created in 1922 and acquired by the Jewish businessman and art collector Max Rüdenberg.
It was until now in the collection of the Sprengel Museum in Hanover. The city's mayor, Stefan Schostok, officially returned the painting to Rüdenberg's heirs on Tuesday. The return of the work, now worth about 160,000 euros ($180,500), can be seen as a "symbol of understanding," said Schostok.
A victim of Hitler's 'Aryanization'
Max Rüdenberg, local politician in Hanover and bedspring factory owner, was dispossessed by the Nazis. Hannover's finance department forced the family to sell the painting "Marsh Landscape With Red Windmill" at the end of the 1930s.
In 1942, Max Rüdenberg and his wife were deported to the Theresienstadt concentration camp, where they died that same year.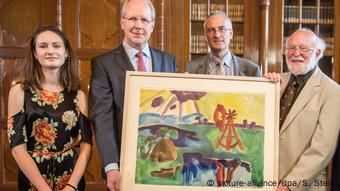 From left to right, Isabelle Reynolds, Hannover mayor Stefan Schostok, James Reynolds and Vernon Reynolds. The Reynolds are Max Rüdenberg's heirs
Through art dealer Hildebrand Gurlitt (Cornelius Gurlitt's father), who worked for the Nazis, the painting landed in the possession of chocolate manufacturer and modern art collector Bernhard Sprengel, who had started collecting so-called "degenerate art" in 1937.
The Sprengel Museum in Hanover, named after the collector, is one of the leading museums of modern art in Germany.
The City of Hanover has been in contact with Rüdenberg's heirs in England since 2013. They had requested the return of the painting. Hannover authorities tasked the "Limbach Commission" with determining the rightful owners of the artwork.
The Limbach Commission, based in Magdeburg, is in charge of advising in such cases, particularly artworks that once belonged to Jews and that were looted or unlawfully acquired by Nazis. Many of these works are now in the collections of German museums, libraries and archives. The commission's assessment recommended the return of the watercolor painting.
gr/eg/ct (with dpa)