Haiti has been repeatedly delaying the presidential vote since last year's election was annulled. Jovenel Moise, a member of ex-President Michel Martelly's party, won the election's first round, but the results were disputed by the losing candidates.
Anger over the results led to violent unrest in the streets, which in turn led to the second-round run-off election being called off in spite of US pressure to go through with the vote.
Jocelerme Privert, who was chosen to serve as Haiti's interim president after Martelly stepped down, said he would remain in power until a new president was elected.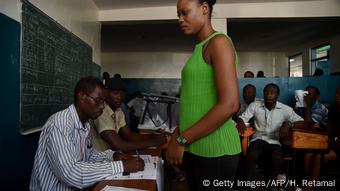 Missing registration cards
In June, Haiti's electoral council set the new election date to be October 9, arguing that the previous election had been tainted by more than 600,000 untraceable votes.
The election was postponed again, however, after Hurricane Matthew hit on October 4. According to Haiti's civil protection agency, the category four hurricane killed at least 546 people. The havoc caused by the storm also led many registered voters to lose their voter registration cards.
Some 27 candidates are vying for the presidency in the country, which, prior to Matthew, was already suffering from food shortages and the fallout over the devastating 2010 earthquake.
Polls are due to close at 4 p.m. The new run-off election is set to take place on January 8, 2017.
ksb/jlw (AFP, AP)