Haitians finally went to the polls on Sunday after more than a year of political turmoil following an annulled election. The top two candidates will meet in a January 29 runoff, unless one candidate gains at least 50 per cent of the vote.
Nearly 6.2 million eligible voters in the impoverished Caribbean nation can choose their president from a field of 27 candidates. Voters will also pick a third of the Senate and 25 members of the Chamber of Deputies.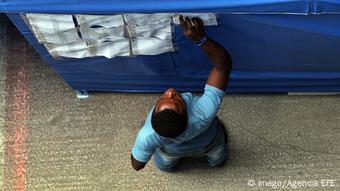 Voting has gone relatively smoothly in a country where elections are regularly marked by chaos.
More than 9,400 police and 1,400 United Nations officers were mobilized throughout Haiti on Sunday. People were banned from carrying weapons and vehicles were not allowed within 100 meters (109 yards) of polling stations.
Clutching national identification cards, citizens waited patiently as voting centers opened well after the official 6am starting time for the poll.
"I will wait as long as I need to," said Alain Joseph, a motorcycle taxi driver and father of four who wore a bright pink sweatshirt to show his loyalty to the Tet Kale party of ex-President Michel Martelly.
Polling appeared to be going smoothly a few hours into the process though voter turnout appeared paltry in much of southwest Haiti.
In the capital of Port-au-Prince and other areas balloting ran without incident.
Voting was smooth even in the nearby volatile slum of Cite Soleil where polling can quickly devolve into chaos if political activists pay young men to cause disruptions.
"I have to admit, I'm a little surprised just how smoothly things are going. We haven't had a single issue," said Vanessa Similien, an electoral office worker who was monitoring voting in a Cite Soleil school next to a trash-clogged canal.

Interim president and hurricane
The mandate of President Michel Martelly ended in February. Parliament chose Senate chief Jocelerme Privert as interim head of state for three months but civil unrest and political infighting delayed new elections.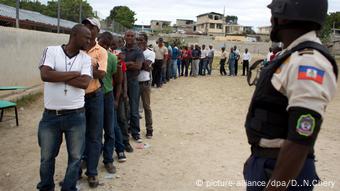 Voters waited patiently as many stations opened well after the official 6am start
Then hurricane Matthew devastated the country on October 4, once again delaying polls.
Enthusiasm among voters for the poll has been subdued. In areas hit particularly hard by the hurricane, many people have been more concerned with finding food and water than choosing a new leader.
But some remain hopeful a new president could relieve Haiti's chronic poverty and political turbulence.
Helene Olivier said she was inspired to vote for the first time in her life, favoring Maryse Narcisse - one of two female candidates. "Women protect women. They make good changes. The men, they boss you and beat you too hard," Olivier said after casting her ballot. Narcisse has attracted attention as she represents the Fanmi Lavalas party of former president Jean-Bertrand Aristide, still a hero to many of Haiti's poor.
National police inspector general Jean Saint-Fleur said it was important the elections took place in good order: "The police are determined to fight any crook or other individual trying to create trouble on election day."
More than two dozen candidates
Despite a wide field of candidates just a handful have a realistic chance of making it past the first round.
Jovenel Moise, a wealthy Haitian backed by Martelly's camp and his PHTK party, is a leading candidate.
His main competition is Jude Celestin (photo,) backed by the opposition LAPEH.
Wealthy Haitian Jovenel Moise is a leading candidate
To their left, the populist Moise Jean-Charles of the "Children of Dessalines" movement hoped his high profile in anti-Martelly protests would win votes.
Sandra Honore, head of the United Nations mission in Haiti, urged voters to the polls.
"I hope this November 20 electoral process will unfold correctly," she said. "I believe that, even with a certain frustration about the representation provided by elected officials, that will be a moment for the Haitian population to indicate very clearly what they want."
aw/jm (dpa, AP, AFP)