The Guatemalan military said on Thursday that it had sent one its vessels to intercept a Dutch "abortion ship" in international waters just off the country's coast. The rights group Women on Waves, which hopes to help Guatemalans circumvent their government's ban on terminating pregnancy, complained that their boat was being illegally detained.
"The military will not permit this group to carry out its activities in the country," read an official complaint from the army penned at the behest of President Jimmy Morales.
Women on Waves fired back, saying that Guatemala's navy was "obstructing a lawful protest against the state's restrictions on the Guatemalan women's right to safe abortion."
They also stressed the need for abortion for health reasons, including the spread of the Zika virus, which can have devastating effects on infants: "Especially at the dawn of the Zika crisis, access to safe abortion is fundamentally an issue of social justice."
The group said that around 65,000 women in Central America have illegal and unsafe abortions each year.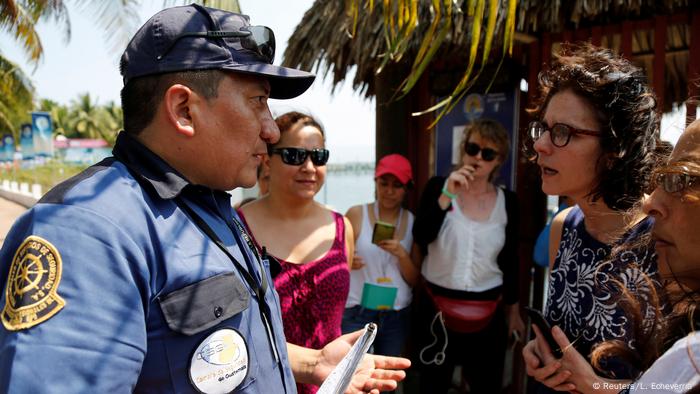 Activists and doctors from the Netherlands, Germany, Austria, Brazil, Spain and Guatemala itself were taking part in the mission
An uphill battle
The plan was to shepherd five women at a time to the ship via a small dinghy, and then give them medication that induces abortion. According to an Austrian doctor on the ship, the pills are 99 percent safe and have been approved by the World Health Organization.
The army argued, however, that because the activists had not declared the motive of their trip, they could not legally go ashore. On top of this, crowds of protesters from Christian groups were at the ready to block their path, and even broke up a small press conference the group tried to hold to explain their mission.
Women on Waves met with similar problems in 2012, when they tried to complete a similar objective off the coast of Morocco. The country's navy prevented them from docking. They have successfully carried out their mission in European nations where abortion can be difficult to procure, such as Ireland and Poland - though they are met with protesters wherever they travel.
es/se (AP, AFP)