Greuther Fürth's most famous fan paid the Bavarian club a visit in late July, as the team prepared to embarked on its first-ever Bundesliga campaign. Former US Secretary of State Henry Kissinger was born in Fürth and supported the club as a boy.
"The sense of connection is still there even after 75 years in America," Kissinger told the Nürnberger Zeitung newspaper during his visit.
The 89-year-old no doubt remembers the last of Fürth's three German championships in 1929 (the others being 1914 and 1926). Back then the winners of various regional leagues played off against one another.
The Bundesliga was founded in 1963, and among the 18 first division teams in 2012-13 season, Greuther Fürth are the only one never to have played before in the German top flight.
In fact it wasn't until only very recently that Greuther Fürth came into existence at all.
Models of mediocrity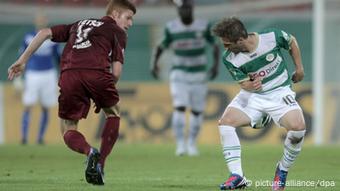 Fürth were chasing their tales against Offenbach in Sunday's first round German Cup defeat
Fürth's football club coalesced in 1903, emerging as many of today's professional teams did from an amateur athletics society. The club's heyday in the Weimar Republic came to an end in the Third Reich, and in the post-war period, Fürth got deeply into debt. By the late 1980s they were playing in the fourth division.
It was partly for financial reasons that Fürth decided to merge with another local club, Verstenbergsgreuth, in 1996 to form today's Greuther Fürth.
In 1997, they were promoted to division two, and that's where they stayed until this season. From 1997 to 2012, they were the only team to play second-division football every season, and they were remarkably consistent. Only once did they finish in the bottom half of the table.
On the other hand, with the start of each new season, prognosticators could pretty much pencil in Fürth for fifth or sixth. No wonder, then, that the club acquired the reputation of a team that was happy enough with its status and didn't truly aspire to compete with the big boys.
Their nickname was "the Unpromotables." From 1997 to 2010, their home grounds were named the Playmobile Stadium.
But then Fürth did something unusual, bringing in a hardnosed coach from Germany's industrial Ruhr Valley and winning their division.
Getting the job done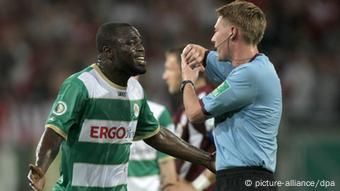 Fürth might be fresh Bundesliga faces, but Gerald Asamoah is a familiar one
The change in Fürth's fortunes can be traced to coach Mike Büskens, a former defensive midfielder who played for a decade with Schalke and was part of the "Eurofighters" squad that won the UEFA Cup in 1997.
When Büskens arrived in Bavaria in 2009, you could feel the intensity jump a couple of notches at the club. Fürth had always been difficult to beat. But now they were capable of putting even in the better clubs in the division under offensive pressure as well.
By last season, Büskens' charges had internalized his winning attitude, and everything clicked. Fürth comfortably sealed promotion, ending the season with a goal difference of +46, aided by striker Olivier Occean's league-topping 17.
Ahead of Fürth's maiden voyage in the Bundesliga, Büskens is staying realistic.
"Given the financial constraints, we will always have to train up our own players," the coach told DW earlier this month. "We help them develop and perform on the main stage - and even move on one day to a bigger club."
Greuther Fürth have already been knocked out of the German Cup by third division Kickers Offenbach - a slice of humble pie for anyone who was getting above his station. Clearly the team are going to need some luck if they are to see a second season in the first-division next year.
Another derby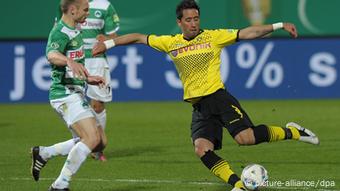 Last season, Fürth made it all the way to the final four in the Cup at their rivals' expense
Still, having Fürth in the top flight will be fun while it lasts. The city with its 116,000-odd inhabitants directly borders Nuremberg, and there is absolutely no love lost between the two clubs.
Nuremberg fans are still seething that their smaller rivals beat them at home in last year's German Cup. For Fürth fans, that victory was almost as good as getting promoted.
Fürth are handicapped by having the smallest budget in their division. Occean, for instance, left for Eintracht Frankfurt, who were also promoted last season.
By far and away, Fürth's most widely known player is striker Gerald Asamoah, the former German national and Schalke forward. Otherwise, they'll have to hope that investments in players like Senegal's Baye Djiby Fall come up big.
However they fare this year, though, Henry Kissinger will still be a fan. And maybe support from one of the most powerful figures of the twentieth century will give Fürth a bit of a boost, as they face a whole new level of challenge.