The Greens are now the largest opposition party in Germany, according to the independent pollster Forsa in a survey conducted for the news magazine Stern.
Support for the center-left environmentalist party has risen to 28 percent, seven points higher than in Forsa's previous survey.
The Social Democrats (SPD), traditionally Germany's largest center-left party, are polling at 23 percent. The SPD is normally the senior member in coalition governments with its partner-of-choice, the Greens.
Making history
The Greens' recent surge of support has put them in a position of power unseen since they entered Germany's political stage in the early 1980s.
After winning regional elections in Baden-Württemberg in March, the Greens are set to lead a coalition government with the Social Democrats as their junior partner in the key southwestern state.
That is a first in the history of the German Republic. And the latest poll suggests the Greens' regional success is currently reflected nationwide. If the results of Forsa's survey were replicated in national elections, Germany would likely see its first Green chancellor.
"We are witnessing major changes in the opinions of voters," said the Green party chairwoman Claudia Roth. "That has to do with the insecurity spread by the unbelievable flip-flopping of the federal government."
Nuclear elections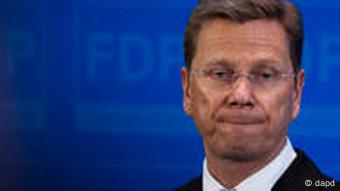 The FDP is fighting to maintain its place on the national political stage
The Greens' success in the traditionally conservative Baden-Württemberg comes in wake of domestic political fallout caused by the Fukushima nuclear crisis in Japan.
Chancellor Angela Merkel's center-right coalition government reversed its long-held support of nuclear energy in the aftermath of Fukushima. In turn, the Greens - traditional opponents of nuclear energy - gained credibility among voters.
Merkel's conservative CDU is currently polling at 30 percent. Meanwhile, the Free Democrats (FDP) – the CDU's national coalition partner – have dropped to 3 percent. That puts the liberals well below the 5 percent hurdle required for representation in the German national parliament, the Bundestag.
German Foreign Minister Guido Westerwelle resigned his post as chairman of the Free Democrats in the wake of the liberals' bruising electoral defeats in Baden-Württemberg, Rhineland Palatinate and Saxony Anhalt.
Author: Spencer Kimball (AFP, dpa)
Editor: Michael Lawton