Greek truckers ended their seven-day strike Sunday, handing a victory to Athens' push for freight sector reform.
"The general assembly of truck federations decided, with a marginal majority, to end the strike," truckers' union head George Tzortzatos told reporters on Sunday.
Truckers are now expected to enter talks with Athens about opening up their closed-shop profession.
Armed forces had been working around the clock from Friday to supply airports, power plants and hospitals after the strike left the country largely crippled and its motorways littered with abandoned cars.
Opening up road freight industry
Greece's 33,000 protesting truck and fuel-tanker owners walked off the job to protest against the creation of new trucking licenses after the government stopped issuing new permits 40 years ago.
Truckers said the plan was unfair to existing operators, as it would devalue their initial investment; many have paid up to 300,000 euros ($391,550) to buy their permits, and would not be able to recoup this amount when they retire and sell off their permit.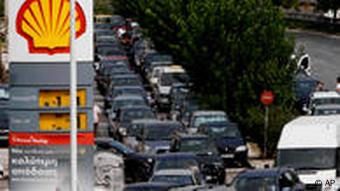 Fuel shortages hit during the busy summer tourist season
Athens says the move will help liberalize the freight sector and open the industry to more competition by September, a key part of the reforms outlined in the 110 billion euro ($144 billion) European Union/International Monetary Fund bailout for the debt-ridden country.
Financial analysts have stressed that opening up Greece's closed professions, which also include architecture and law, is essential to revitalizing the country's economy.
"It is even more important than fiscal stabilization because it is the operation of the market which is hindered," said Yannis Stournaras of the Athens-based IOBE think tank.
"When these markets open, GDP will be much higher," he added.
Consequences linger
Until the strike was called off, truckers had been risking criminal prosecution and a loss of license for defying a government back-to-work order issued on Wednesday
Businesses, meanwhile, reported that the strike had damaged their livelihood and dealt further blows to Greece's image abroad.
Tourism, which accounts for nearly a fifth of Greece's recession-hit economy, was also hit hard. With an estimated hundreds of thousands of tourists stranded in Greece, many more chose to cancel their summer vacation plans.
Author: David Levitz (AP/AFP/dpa/Reuters)
Editor: Martin Kuebler