Clashes broke out between riot police and protesters in Athens on Sunday as thousands of people took part in a rally against the Greek government's name change deal with Macedonia, which is currently officially referred to as the Former Yugoslav Republic of Macedonia.
"We cannot stomach this deal, to give away our Macedonia, our history," Amalia Savrami, a 67-year-old pensioner, told Reuters news agency.
"Macedonia is Greek, period," she added, waving a large blue and white Greek flag.
Police fired tear gas to disperse protesters outside of parliament after a group of protesters threw rocks, paint, flares, fireworks and other objects.
One man wearing a Greek flag attacked police with a large stick while others also struck officers by swinging large flags on wooden poles.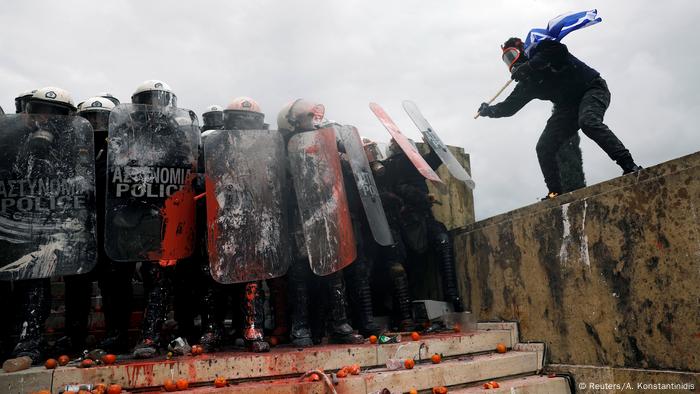 Protesters threw paint, rocks and other objects at police — who responded with tear gas
Nine officers were reportedly injured, according to police. There were no immediate reports of injuries among protesters, although local media reported that police used batons and mace on the crowds.
Authorities estimated that some 60,000 people took part in the rally, while the demonstration's organizers claimed that 100,000 were present. Hundreds of buses brought in people to the rally from across the country, but especially from northern Greece.
Controversial name change deal
The protest comes ahead of a key vote on whether or not to accept a deal to change the name of Macedonia, an ex-Yugoslav republic, to the Republic of North Macedonia.
Greek Prime Minister Alexis Tsipras and his Macedonian counterpart, Zoran Zaev, agreed on the deal in June to end a decades-long dispute.
In exchange for changing the name, Greece is also supposed to stop blocking Macedonia's bid to join NATO and the European Union.
Greece's parliament will start debating the accord on Monday, with lawmakers set to vote on whether or not to ratify it on Friday.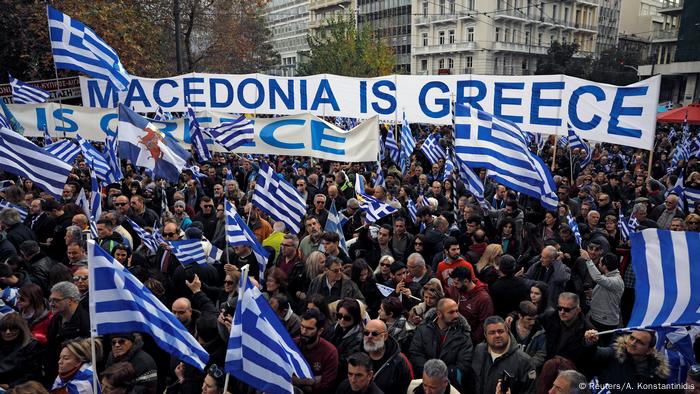 The naming issue is an emotional one for many Greeks, with many arguing that the name "Macedonia" is a key part of Greek heritage
The protesters vehemently oppose the deal because they believe the name Macedonia implies territorial claims over Greece's northern region, which bears the same name.
The issue also strikes a chord with many Greeks who consider the ancient kingdom of Macedonia, which was ruled by Alexander the Great, to be a key part of Greek heritage and identity.
Although numerous Greek parties across the political spectrum oppose the deal, it still has a chance of gaining the votes necessary to ratify it. Macedonia's parliament recently ratified the deal, but it still needs Greece's approval.
Tsipras' ruling coalition fell apart over the deal, but he narrowly survived a vote of confidence last week.
rs/jm (AP, AFP, dpa, Reuters)
Each evening at 1830 UTC, DW's editors send out a selection of the day's hard news and quality feature journalism. You can sign up to receive it directly here.