The new Greek government on Friday made several key concessions in talks with eurozone finance ministers, paving the way for a tentative deal to extend its international "bailout" by four months.
"Tonight was a first step in this process of rebuilding trust," Jeroen Dijsselbloem, chairman of the 19-country "eurogroup" of finance ministers, told a news conference in Brussels. "We have established common ground again to reach agreement on this statement."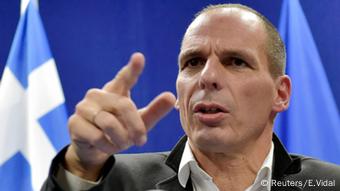 Varoufakis said that now, Greece was asking the EU to meet it 'not half-way, but one-fifth of the way'
Greece's Syriza-led government, elected this January on a campaign platform of negotiating a better deal for the country in Brussels, will submit a list of reforms next week that it intends to maintain. Provided these are accepted by the rest of the bloc, the extension agreement can then be ratified.
"If our list of reforms is not backed by institutions, agreement is dead and buried, but it won't be shot down by the institutions," Greek Finance Minister Yanis Varoufakis said. "The weekend will be one of joy and creativity. We are writing our own reforms."
Back to reality?
German Finance Minister Wolfgang Schäuble, a conservative among the Christian Democrats and one of the staunchest advocates of Greece sticking to previously agreed reforms and monitoring, called the agreement "an important step forward" after the talks.
"Being in government is a date with reality, and reality is often not as nice as a dream," Schäuble said. "The Greeks will certainly have a difficult time explaining this deal to their voters."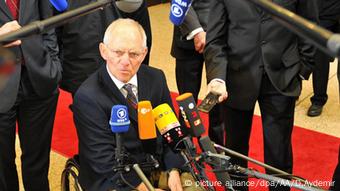 Schäuble, asked if Greece might win concessions, said 'everything we've offered since 2010 has been concessions'
Dijsselbloem, Varoufakis, Schäuble and International Monetary Fund managing director, Christine Lagarde, were party to the preliminary talks drafting Friday's deal.
Western markets - already buoyant as other EU monetary policy pushes investors towards stocks and shares - responded positively to the agreement. After Germany's DAX hit at another record high during Friday's trading, the major US indices followed suit - with Dow Jones industrial average and benchmark S&P 500 both hitting intra-day highs.
The euro pared some of its losses against the dollar reaching $1.1403, a 0.33-percent increase on the day. In mid-December, that rate stood at around $1.25, for the first half of 2014, it was above $1.35.
Yields on Greek bonds also dropped in response to the deal, with three-year interest yields dropping 16 basis points to 16.497 percent - pulling further away from the highs of more than 22 percent achieved last week.
msh/rc (AFP, AP, dpa, Reuters)