Greece no longer depends on European Union aid after formally exiting on Monday its third and final bailout program which had been signed in August 2015.
"Today we can safely conclude the European Stability Mechanism (ESM) program with no more follow-up rescue programs as, for the first time since early 2010, Greece can stand on its own feet," Mario Centeno, the chair of the intergovernmental organization's board of governors said in a statement issued early Monday.
"This was possible thanks to the extraordinary effort of the Greek people, the good cooperation with the current Greek government and the support of European partners through loans and debt relief," Centeno said. The ESM disbursed €61.9 billion ($70.8 billion) over the past three years to recapitalise banks and in support of macroeconomic adjustments.
EU Economy Commissioner Pierre Moscovici said on Monday that it was "the beginning of a new chapter" for Greece. "For the euro area, it draws a symbolic line under an existential crisis," he said.
European Commission President Jean-Claude Juncker said he had "always fought" to keep Greece at the heart of Europe. "The Greek people have responded to every challenge with a characteristic courage and determination," he added.
The emergency financial support programs began in 2010 and lasted through four governments and saw harsh austerity measures imposed. Restrictive budget rules will remain for the next decade.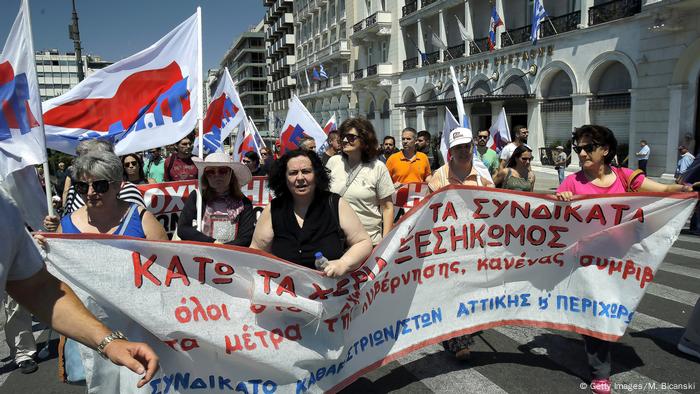 In May, there was a 24-hour general strike against austerity measures
German parliament approved debt relief
The German parliament approved a debt relief package for Greece in June, pushing back by ten years repayment deadlines on about 40 percent of the total Greece needs to repay the eurozone in the coming decades.
The package covers €96 billion of bailout loans which were to be repaid in 2023 but will now fall due in 2033. The aim is to help the country move away from the rescue loans, as Scholz told parliament at the time: "What we are sending here is a signal of European solidarity."
Athens will remain under its creditors' enhanced supervision for some time to come.
Scholz told the Handelsblatt business journal on Sunday: "The completion of the Greece program is a success. The gloomy prophecies of doomsday sayers have not occurred. That's good."
The minister praised Greek citizens who he said had made great efforts: "For which they deserve respect." He repeated his remarks about European solidarity: "Together we are stronger than when it is everyone for themselves," he said. "I think the rescue of Greece should give us the courage to quickly tackle the tasks now facing the European Union," Scholz said.
Challenges ahead
There have been new arrivals in Greece following the privatisation program which was a condition of the bailouts.
Frankfurt airport operator Fraport has taken over the management of 14 Greek airports and expanded their capacity, boosting tourism.
Italy's national rail company has acquired its Greek counterpart's passenger and cargo operations.
A Chinese consortium has taken over part of the port of Piraeus, substantially increasing the amoung of goods passing through it.
Greece's economy is expected to grow by 2 percent this year. It lost about a quarter of its gross domestic product (GDP) between 2008 and 2018 as half a million people left the country while the country experienced once of the worst recessions in modern history.
jm/aos/aw (AP, AFP, dpa)
Each evening at 1830 UTC, DW's editors send out a selection of the day's hard news and quality feature journalism. You can sign up to receive it directly here.