Increases in military spending slowed down considerably last year under pressure from the global recession, while European countries slashed military spending in 2009, a leading think-tank said Monday.
Global military expenditure rose in 2010 by 1.3 percent in real terms, to reach a record $1.6 trillion (1.1 trillion euros), according to the Stockholm International Peace Research Institute (SIPRI), but the figure represented the lowest growth rate since 2001 - and a marked slowdown from the 5.9 percent global spending increase in 2009.
European militaries meanwhile spent $382 billion for the year - 2.8 percent less than in 2009 - as governments attempted to rein in their budget deficits.
Germany, which was ranked the world's seventh biggest spender alongside Saudi Arabia, lowered its military spending by a relatively modest 1.3 percent to $45 billion, whereas French cuts amounted to an 8.4 percent dive.
However, the biggest cuts were made in southern and eastern Europe, with Bulgaria's defense budget falling by 28 percent. Estonia and Latvia meanwhile slashed military spending by 23 and 26 percent respectively, while Albania, Hungary, Greece and Slovakia also made cuts of over 10 percent.
More cuts to come
"Further cuts are expected in most of Europe in 2011 and subsequent years, although these are likely to remain relatively modest in the major spending countries," said a statement by SIPRI, which researches international security, armament and disarmament.
Decreased spending could damage Europe's military strength, according to Guy Anderson, Chief Analyst at Jane's Defence Industry, a publication which focuses on the global defense market.
"If funds are limited, governments are going to have to make very, very tough decisions," Anderson told Deutsche Welle.
"On the whole there's a very serious risk that Europe could emerge from this period weaker," he added.
But according to Sam Perlo-Freeman, SIPRI's Military Expenditure Project chief, the cuts in Europe were, in fact, largely due to a strong sense of security, as well as more socially oriented spending priorities.
"Most European countries have not perceived significant military threats," Perlo-Freeman told Deutsche Welle.
"European voters are generally more interested in general social and economic wellbeing spending than on military spending, so most European countries simply haven't seen the need to raise military spending in the same way that the US has chosen to pursue a very militarized approach to their security," Perlo-Freeman said.
"Those threats that do exist - climate change and terrorism - are not seen … as things that are susceptible to military approaches," he added.
China catching up
In Asia, India, Thailand, Sri Lanka and East Timor considerably lowered their military expenditure, while Indonesia increased its spending by 28 percent, and Mongolia by 26 percent.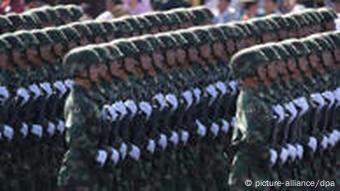 China came second in military spending, after the US
China remained the greatest military spender in Asia, and the second-biggest in the world after the United States - which increased its spending by 2.8 percent in 2010 to $698 billion.
Perlo-Freeman points out that China still only spends one sixth of what the US spends. "Of course it's not just what you spend in any given year that counts, but the arms and equipment and technology that you've built up over the course of decades," he said. "For example, the United States has 11 aircraft carriers to China's zero. So, they are certainly catching up doing this for years and years, but they are still a very long way behind."
Still, China's $119 billion in military expenditure is double that of third-place Britain, according to Perlo-Freeman.
Growing weapons markets
Records in military spending were also seen in Africa, where armament expenditure increased by five percent to $30 billion, and in South America, where Brazil accounted for the lion's share of $63.3 billion in military spending.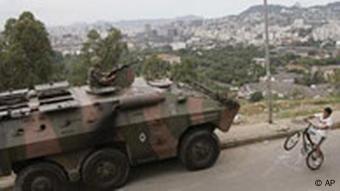 Brazil accounts for about half of South America's military spending
"Brazil is a country that spends almost half, or a little bit more than half, of military spending in South America," said SIPRI's Carina Solomirano, who added that Brazil was "seeking to occupy a better role when it comes to issues of peace and international security."
According to Anderson, arms exports to countries like Brazil will become more important to the defense industry in the face of a potentially contracting European market.
"To maintain growth, profitability, it's going to mean exporting around the world," he said. "So we're going to see an absolute bloodbath in export markets, particularly the priority markets such as India and Brazil."
Authors: Daniel Scheschkewitz, David Levitz
Editor: Michael Lawton