Borussia Mönchengladbach 1 - 0 Wolfsburg
(Kruse 90')
A sloppy showing from Wolfsburg on Sunday ensured that with four matchdays to go, Bayern are now Bundesliga champions. Even with a Wolfsburg win on Sunday, there would have been only a very slim mathematical chance for the Wolves to steal this season's crown.
In Mönchengladbach Wolfsburg started out of sorts while the Foals dominated the first part of the game. Patrick Herrman had an excellent chance in the 21st minute, but he stopped his run too early, assuming the through ball would be picked up by Wolves' keeper Diego Benaglio. In the end, he was one step short of an easy tap-in.
Wolfsburg had a decent chance of their own later in the half after a Kevin de Bruyne breakaway, but Nicklas Bendtner could only side-foot his shot into a defender.
In the second half, Borussia Mönchengladbach defended tightly while the Wolves remained toothless in attack, and it looked like the game was going to end in a goalless draw.
But Gladbach's Max Kruse had other ideas, scoring in the 90th minute from close range. The excellent Fabian Johnson got the assist. It was Kruse's first goal in open play for over six months and meant that Gladbach pulled to third in the table, two points clear of Bayer Leverkusen.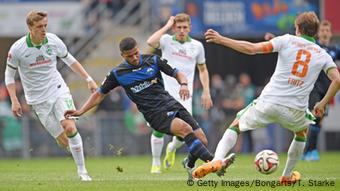 Paderborn started strongly, but they couldn't hold onto their lead
Paderborn 2 - 2 Werder Bremen
(Vrancic 26', Stoppelkamp 27' - Selke 45', Hajrovic 76')
Going into the game, Paderborn had scored just four goals since the winter break. And it didn't take long for the tiny side to continue its poor form in front of goal, as striker Elias Kachunga missed from close range in the 17th minute.
But the hosts didn't lose heart and got on the score sheet in fine style. Mario Vrancic rocketed a shot into the top of the net in the 26th minute, volleying straight from a corner. The sublime strike seemed to motivate players and fans alike. Within just 90 seconds Paderborn had doubled its lead with a Moritz Stoppelkamp header.
Just before half-time, Davie Selke was able to grab one back for the guests with a header, after he was left unmarked in the box.
Paderborn started the second half positively, but Bremen weren't to be stopped. The northern German side levelled after a debut goal by Izet Hajrovic in the 76th minute. Shortly thereafter, Paderborn defender Michael Heinloth got his marching orders for a second bookable offense.
The game ended 2-2, meaning Paderborn move off the bottom of the table, but remain in the relegation zone.