Lawmakers from Germany's oldest party, the SPD, sealed their plans for a new welfare state on Sunday after months of deliberations, debates, online discussion and regional meetings.
"We are leaving Hartz IV behind us," said party head Andrea Nahles, referring to the welfare system that many in the party, and beyond, see as stigmatizing. The state should be viewed as a partner rather than an overseer, she added after party leaders endorsed the plan in Berlin.
Read more: German issues in a nutshell: Hartz IV
The SPD wants to replace Hartz IV, the basic welfare benefit — currently €428 ($484) per month — with a basic income. They also want to extend the period of time that older people, from age 58, receive unemployment benefits, to 33 months from 24 months. Younger people, too, will receive unemployment benefits for longer, taking into consideration how long they contributed to the welfare system when they had work. Those who are jobless should have the right to further training, the 17-page welfare state concept says.
The idea is also to get rid of measures viewed by many as a way to punish people for being out of work, such as forcing people to move out of their homes if they were deemed too big and pricey or to use up their nest eggs before they could get help.
"We are overcoming what we recognized as not having been the right route," Nahles said when asked if the party needed to apologize for Hartz IV, which was instituted in the 2000s by then-Chancellor Gerhard Schöder as part of a series of labor market reforms called Agenda 2010.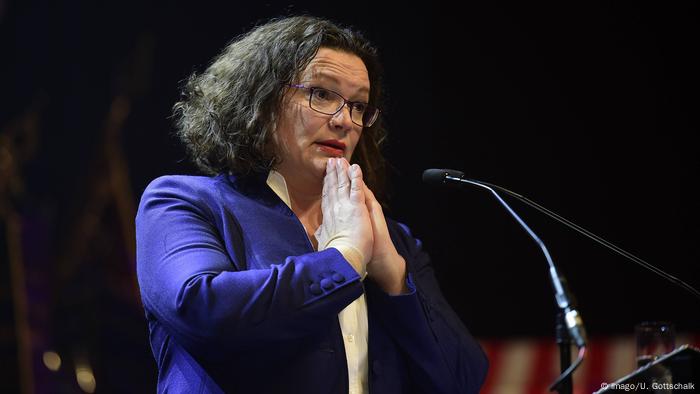 Andrea Nahles has a tough job as head of the SPD
The new plan takes children out of the Hartz IV system. Instead, parents will be able to apply online for support for their children, separately from the benefits regime that applies to adults.
The SPD also wants to raise the minimum wage to €12 from €9.
Critics from right and left
Conservatives have dubbed the plans a shift to the left and some have criticized the Social Democrats for launching them at a time when they are part of a government coalition — with Angela Merkel's conservative CDU and its Bavarian sister party, the CSU.
"With their desire to win over voters again, they have decided for a stalwartly leftist route," Volker Bouffier, CDU deputy leader, said in an interview with Funke Mediengruppe. He said the SPD wanted to bury Germany's famous social market economy with the new plans.
Read more: Welfare state: Who's bigger on benefits Germany or the UK?
Left party politician Susanne Ferschl, deputy leader of the parliamentary party, in contrast, said the paper didn't go far enough, but would need to tackle deregulation of the labor market, including temping and limited-term contracts.
Once one of Germany's two biggest parties, voters have shown little interest in the SPD in opinion polls in recent months, which put support between 14 and 15 percent. Distancing itself from Hartz IV — and underlining social policy as a priority are part of attempts to bring the party out of the doldrums. Social Democrats have given credit for the new welfare benefit plans to Andrea Nahles, whose position as party leader could be bolstered by stressing the word "social" in the party's name.
Mainstream politicians have attributed Hartz IV with bringing down Germany's unemployment rate and playing a significant role in the country's economic success compared to other European states.