The German BEE renewable energy association reported on Sunday that the share of wind, hydro and solar power consumed in the electricity, heating and transport sectors climbed from 14.8 percent in the first half of last year to 15.2 percent in the same period in 2017.
The biggest increase was seen in the electricity sector, where the share of end energy consumption generated by renewables rose by 2.4 percent to 35.1 percent. This was offset by a drop of 0.4 percent in the transport sector, in which renewables provided just 5.1 percent of energy consumed.
In the case of heating, 13.6 percent of energy used came from renewables, a rise of just 0.3 percent compared with the same period in 2016.
Read: Germany's shift to clean power: fast or slow?
Sceptical prognosis
In view of the overall minimal increase, BEE acting managing director Harald Uphoff said that Germany's transition to renewables was much too slow.
"It is only with a much greater commitment to the spread of renewable energy sources - for electricity as well as for heating and transport - that we will be able to meet the goals of the Paris Climate Agreement and reach the renewable-energy targets demanded by the EU," he said. "Climate protection and economic development must no longer be seen as mutually exclusive."
He called for prices to be put on CO2 production to ensure an equal playing field for renewables in the electricity and heating sector, for the removal of caps on clean electricity production and for an end to support of heating based on fossil fuels.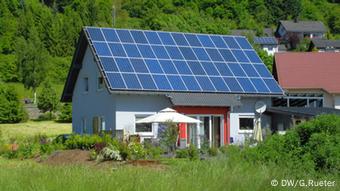 Many German house owners opt for solar on the roof
Read: Sea change to Germany's energy transition as it throws renewables to the open market
Uphoff said that the minimal increase in the use of energy from renewable sources confirmed BEE's "sceptical prognosis" with regard to Germany's hopes of achieving the target set by the EU of 18 percent renewables in end energy consumption by the year 2020. In April, BEE predicted that at the current speed of transition, Germany would reach just 16.7 percent by that time if no political intervention occurred.
Remote goals
Germany's goal of reducing CO2 emissions by 40 percent from 1990 levels by 2020 is still more remote, according to BEE; it predicts that the cut will be 30 percent at most.
Germany's transition to renewables, or Energiewende, was launched in 2010 in the wake of the Fukishima nuclear accident, with the country aiming to phase out its nuclear power plants by 2022.
Use of energy from renewable sources has anyway been rising steadily over the last twenty years, in part due to the Renewable Energy Act (EEG) which was reformed this year to cut renewable energy costs for consumers.
Up to 85 percent of electricity has come from renewable sources on certain sunny, windy days this year in Germany.
Germany aims to reach the proportion of 80 percent renewables for gross power consumption by 2050.