The 185th Oktoberfest has begun in the Bavarian capital, Munich, with Mayor Dieter Reiter managing once more to open the first keg of beer with just two blows of the hammer at the opening ceremony.
The first glass of beer, traditionally reserved for the state's premier, went to Markus Söder, who is attending the fabled event for the first time in the capacity.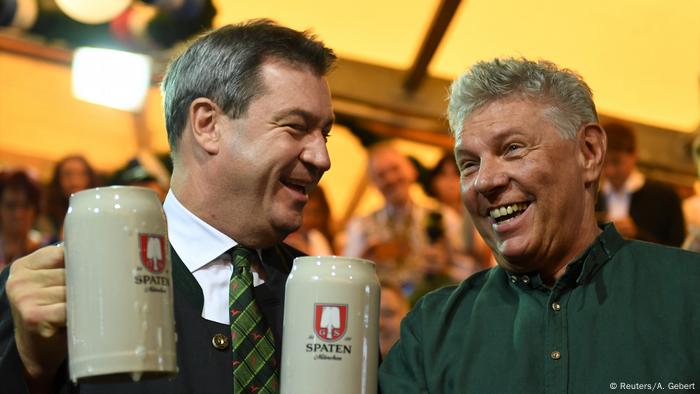 Söder and Reiter were the first to get their beers
Other guests at the Oktoberfest will be paying up to €11.50 ($13.53) for a liter (2.1 pints) of the amber fluid that will flow freely over the next two weeks into the throats of an expected 6 million guests from all over the world.
Read more: Oktoberfest reveals its official 2018 beer mug
Heightened security
Some 600 police officers and several hundred security personnel are on hand amid concerns of possible terrorist attacks. The Theresienwiese, where the Oktoberfest takes place, is now surrounded by fences and visitors are no longer allowed to carry rucksacks into the area.
The increased security costs are one factor driving the higher price of beer at the festival.
The festival, which has been held since 1810, will end on October 7.
tj/jlw (dpa, AFP)
Each evening at 1830 UTC, DW's editors send out a selection of the day's hard news and quality feature journalism. You can sign up to receive it directly here.