DW: Marco Sturm, how great is the pressure on you not spoil the newfound respect that the national team earned with its silver medal performance at the Pyeongchang Olympics with a bad showing at the Ice Hockey World Championship in Denmark?
Marco Sturm: I think a lot of people know the relative strengths of the nations in international hockey. They know that we will not win every game. But sure, we feel pressure. It is bigger than before. We will try to play as well as we did at the Olympics and at the last world championship. If that happens and we play good hockey, we will be satisfied.
The world championship is a secondary highlight of the international calendar after the Olympics. What is the appeal of going against the world elite again?
It is a new tournament. We need to forget about the Olympics. The tune-up games before the world championship showed us that there is still a lot to do. We need to be cleverer and develop more of an edge in front of goal. I think that the players are confident going into this world championship.
Read more: Marcel Noebels: 'It was a winter fairy tale'
You said soon after the Olympics that the team you took to the world championship would be far from identical. But did you expect as many changes as there have been?
Some players retired, a few are injured and others are mentally tired. Our outstanding goalie Danny aus den Birken is also out. It is a fresh start with a new young team. Our team at the Olympics was the oldest in the tournament. Now we have only five players over the age of 30 and 12 who are 25 or younger. Seven of them will be competing at the world championship for the first time.
A little more experience could be useful at the world championship. Have Patrick Reimer, Marcel Goc and Christian Ehrhoff let the national team down?
No. All three of them spoke with me last summer about their intention to retire at the end of the current domestic season and there was no way for me to convince them to change their minds now. All three of them have had long successful careers. I cannot hold it against them that they wanted to stop after that achievement (silver at the Olympics).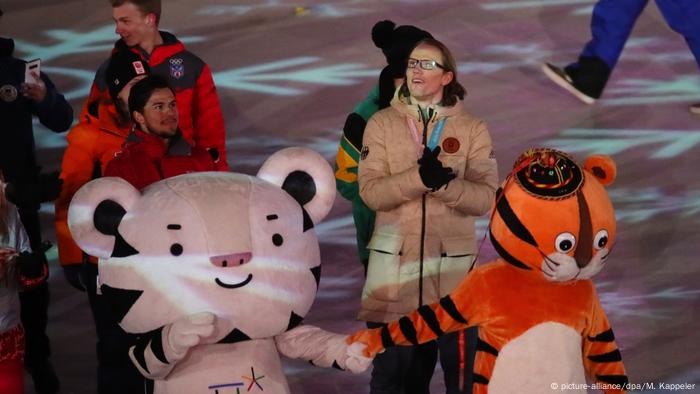 Christian Ehrhoff (right) retired after earning a silver medal at the Pyeongchang Olympics
Three NHL players have now joined the squad. Surely they can't have arrived in euphoric moods after their teams either missed the Stanley Cup playoffs or were eliminated in the first round.
I am happy about every player that wants to play at the world championship. Leon Draisaitl (Edmonton Oilers) is a star forward. He helped us a lot at last year's world championship. Dennis Seidenberg (New York Islanders), at the age of 36 is a true leader. He provides our team with a lot of stability. That also applies to Korbinian Holzer (Anaheim Ducks).
Markus Eisenschmid, Marc Michaelis and Manuel Wiederer are new to the national team setup. What kind of players are they?
They are all prospects who play in the lower levels in North America — in the AHL (American Hockey League) or in college. We are looking for the right players, not just NHL players. Frederik Tiffels (Wheeling Nailers, ECHL) made a really good impression over the last year. He is back in the squad.
Winning the silver medal at the Olympics was Germany's greatest achievement in ice hockey. How was it for you and what has changed since then?
It was unbelievable for all of us, the enthusiasm. Not just for us, but also among people who had never or rarely seen a hockey game live. We're looking use this momentum to advance our sport in Germany. We have a long-term project aimed at doing this, which is called "Powerplay 2026." We intend to be among the world's elite in ice hockey in eight years' time.
What is required to attain that?
We need to improve our player development: To inspire more kids to play hockey, to invest more in coaching, to invest in facilities, including building more hockey rinks.
Read more: Sturm has Germany moving in the right direction again
Germany's group in the opening stage is stacked. In Finland, Norway and Canada you are facing teams that you played in the Olympic tournament. What is your goal for this tournament?
We are seventh in the IIHF world rankings, and we want to defend that position. To achieve this, we need to reach the quarterfinals. Along with the teams you named there is also the United States, Latvia, the hosts, Denmark and South Korea. We need to have the highest concentration and preparedness in every game.
Marco Sturm, 39, played 17 seasons in the National Hockey League (NHL). He made 938 appearances for the San Jose Sharks, Boston Bruins, Los Angeles Kings, Washington Capitals, Vancouver Canucks and Florida Panthers. He was appointed coach of Germany's national team in the summer of 2015.
The IIHF World Championship in Denmark begins on Friday, May 4. The final of the 16-team tournament takes place on May 20 at the Royal Arena in Copenhagen.
The interview was conducted by Herbert Schalling