Cologne Sharks defenseman Christian Ehrhoff, 35, announced on Sunday that he has retired from professional hockey, bringing an end to a 19-year career where he played in Germany's top hockey league (DEL) and the National Hockey League (NHL) in North America.
Ehrhoff is only a month removed from helping the German national team earn a silver medal at the 2018 Winter Olympic Games in Pyeongchang. His announcement came just minutes after the Nuremburg Ice Tigers defeated the Sharks 5-1 in Cologne's Lanxess Arena, eliminating the Sharks from the DEL playoffs.
Read more: German ice hockey team pull off 'Wunder von Pyeongchang'
"After 19 years of pro hockey I've decided to call it a career. Thanks to all my teams, teammates, coaches, staff members and fans for your support and countless amazing memories," Ehrhoff wrote in posts on his social media accounts.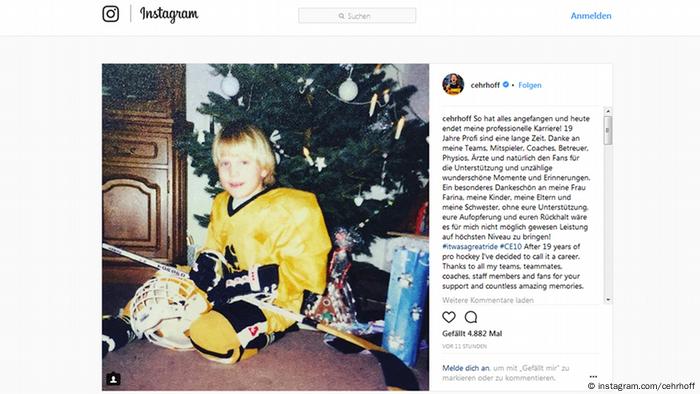 Christian Ehrhoff announced his retirement on social media with a picture of himself as a child
"I informed the team, the Sharks organization and of course national team coach Marco Sturm about this step. I was privileged to enjoy a long and successful career. For that I am very thankful. I am now excited about the next chapter in my career," Ehrhoff said in an interview posted on the DEL's official website on Sunday.
"I carefully considered the decision and it became firm up in recent weeks. After playing so many years at the highest level, it is now the time for me to start something new."
A German hockey star
Ehrhoff began his professional career at the age of 19 with the Krefeld Penguins in 1999. He was drafted 106th overall by the San Jose Sharks in the 2001 NHL Entry Draft. In 2003, he made his NHL debut with the Sharks, playing alongside fellow countryman Sturm.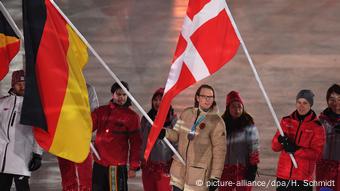 Christian Ehrhoff (fourth from left) holds the German flag at the closing ceremonies of the Pyeongchang Olympics
Ehrhoff played 789 regular season and 73 playoff games for the Sharks, the Vancouver Canucks, the Buffalo Sabres, the Pittsburgh Penguins, the Los Angeles Kings and the Chicago Blackhawks between 2003 and 2016. He reached the Stanley Cup Finals with the Canucks in 2011, but his team lost to the Boston Bruins 4-3 in the best-of-seven series.
Ehrhoff returned to Germany in 2016 and resumed his career with the Sharks. In February, he helped the German national team reach the gold medal game at the Pyeongchang Olympics, which they lost in overtime to the Olympic Athletes from Russia. He was the flag bearer for Germany at the closing ceremony.
dv/pfd (dpa, SID)