"I saw her on television in 1977 when she was 86 and I thought, she has short hair, a colorful dress, she's tough and living in the present, she's a real punk because she doesn't care about her image," said artist and musician Wolfgang Mueller at the opening night of a new exhibition dedicated to Valeska Gert.
The show in Berlin's Hamburger Bahnhof coincides with the launch of a Mueller's new biography on the performer. "When she died in 1978 people took care of her letters and found correspondence from punks who said, we would like to know you and to meet you," he said.
Indeed, Valeska Gert's appearance on a TV talk show in the late 1970's re-ignited interest in one of Germany's most enigmatic artistic figures. Her acceptance, at the age of 86, by the burgeoning punk movement is as much a testament to her brash, no-nonsense energy as it is to her artistic achievements. Since then she has remained a marginal curio.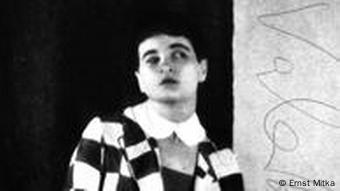 This self-designed costume, pictured in 1931, foreshadows 60's fashions
Gert was born Gertrud Valesca Samosch to a Jewish family in Berlin in 1892. Showing no interest in academia, Gert began taking dance lessons at the age of nine, and by 1915 was studying acting with Alexander Moissi. Her leanings toward the performing arts, combined with the detrimental effects of World War I on her father's finances, led her to seek employment and she soon made appearances at the Munich Kammerspiele, the Deutsches Theater and the Berliner Tribuene.
Radical experiments on stage
As the 1920's progressed, she also began appearing in silent cinema, performing in "The Threepenny Opera," "Diary of a Lost Girl" with iconic flapper Louise Brooks, and G. W. Pabst's "Joyless Street."
It was around this time that Gert unveiled one of her most enduring performance works. Entitled "Pause," it was an interpretative anti-dance performed between reels in cinemas, designed to draw attention to stillness and serenity.
"It was so radical just to go on stage in the cinema stand there and do nothing," said Wolfgang Mueller, "She did this in the 20's where the convention was speed, business, activity and you see this in the films of the 20's: big cities, traffic, nervosity. To go out there and do the complete opposite was very, very modern."
By 1933, with the Nazis in power, Gert suffered a ban from the German stage due to her Jewish heritage. She moved to London where she continued to perform on stage and appeared in the experimental short film "Pett and Pot" directed by Alberto Cavalcanti. It would be her last film work until her triumphant return to the cinema in the mid-1960's.
Trend setting with 'freedom from taste' A rare 1969 recording of Baby is screened at the PAUSE exhibition
By 1938, in her late 40's and living in New York but, Gert found it virtually impossible to revive her previous career. She lived on the welfare of a Jewish refugee community, washed dishes and posed as a nude model. In 1941, she opened the Bettlerbar (Beggar's Bar), a ramshackle cabaret/restaurant filled with mismatched furniture and staffed by the likes of Jackson Pollock and Tennessee Williams, the latter being fired by Gert for being "too sloppy."
Although licensing requirements forced the New York bar to close, Gert introduced the concept to Germany upon her return in 1950. It has proved perhaps her most enduring legacy; tumbledown bars furnished with random pieces of flea-market chic and junk store accessories have since become legion in Berlin, a fad started by Gert which Wolfgang Mueller terms "freedom from taste."
Back in post-war Berlin, she once again had to start from scratch. In the same 1977 television show, the interviewer tactfully suggested that by the dawn of the 1950's Gert was perhaps not so well remembered as before. With typical self-depricating humor and bluntness typical for Berliners, she exclaimed, "Not so well remembered? I was totally forgotten!"
She opened the Hexenkueche (Witch's Kitchen) cabaret and made a triumphant return to the silver screen with an appearance in the 1965 surrealist drama "Juliet of the Spirits," directed by Frederico Fellini. She was soon cast in other high profile projects by Rainer Werner Fassbinder's and Volker Schloendorff.
Well outside the box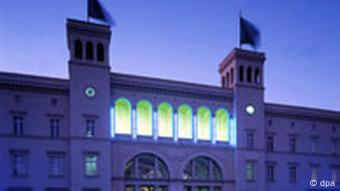 The Valeska Gert exhibition is on display at the Hamburger Bahnhof until February 2011
While Valeska Gert has had a small but solid fan base, widespread fame always eluded her and, especially in the intervening years, she has become very much a marginalized character. "I think she is a bit invisible," said Wolfgang Mueller, "She is not known because she always ignored borders. She was always far away from these boxes that the art scene puts people in."
However, 2010 may well see an upswing in Gert's popularity; the exhibition dedicated to her work has a generous five-month run, while the Martin Schmitz publishing house has not only released Mueller's definitive new biography but also a 7" vinyl recording of her 1969 performance of "Baby," an impersonation of a gurgling child alternating between rage and happiness.
Historian An Paenhuysen, the curator of the new exhibition in Berlin, was new to Gert's world before taking on this project; now she is a devoted fan. "Valeska Gert made work that is still very contemporary. It still works for today," she said. "It's very familiar and at the same time very strange, frightening. It touches you. It's really hard to sum her up. You can't name her or put her in a box."
Author: Gavin Blackburn
Editor: Kate Bowen