The English Theatre Berlin is the German capital's only exclusively English-language theater. Oddly enough, the theater's founder and artistic director, is German.
Guenther Grosser - not from Berlin, but from Bavaria - studied acting in New York in the late 1980s. With the fall of the Berlin Wall, he saw a chance to establish an English-language theater in the German capital.
"When the wall came down we all realized [that] this is really becoming an international capital, and there are so many people moving to Berlin from all over the world," said Grosser. "So I think the English-language theater is a must in this town."
Celebrating two decades this year, the English Theatre Berlin plays a strong, if modest role on the city's vast theater scene. Since German reunification, Berlin has become one of Europe's hippest meccas for artistic creativity and, according to Grosser, this development has had a direct and dramatic affect on his theater.
"[Many] more young theater-makers are in Berlin now than ever before," he said. "It is much easier for us now to choose from a large crowd of actors - and we're talking about professional native-speaking English language actors living in town."
Having a bigger pool of actors means a greater diversity of ideas, approaches and aesthetics.
Love is universal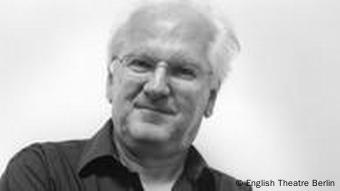 The theater's founder Guenther Grosser was inspired by his time in New York
In this summer's production of LOVEPUKE, a play about the trials and tribulations of love, sex and communication in modern relationships, Amy Hye plays the role of the femme fatale, Louise. Originally from New Zealand, Hye recently moved to Berlin after spending six years in Madrid.
She's one of Berlin's many new arrivals, attracted by the city's creative mystique and promise of cheap living.
"In Madrid, we were working really fast-paced comedy shows, one-hour shows back-to-back," she said. "The level of English wasn't so good - whereas here, I think you can perform more in a traditional theater sense, because the level of English is better."
LOVEPUKE is directed by Fingal Pollack, a 28-year-old aspiring director from New Zealand who came to Berlin two years ago for a four-day visit - and never left. What keeps her here (besides her boyfriend) is the city's fertile creative soil and the opportunities at the English Theatre Berlin.
"This is the second big play I've directed in Berlin, so it's a beginning for me," explained Pollack. "There's so much opportunity, and it's easy to do your thing here. There's space and there's time to be able to find out what you really want to do, and what you're good at, as well."
For love of theater
To finance her love for directing serious plays, Pollack does what she can to stay afloat, working in children's theater, teaching English and taking on translation projects. While there's still a lot of support for young theater-makers in New Zealand, Fingal prefers the artistic possibilities that Berlin's eclectic English-language theater scene has to offer.
"New Zealand has a very good theater scene, but because Berlin is such a mixing pot of different cultures, I think it is a far richer choice," said Pollack, adding that she had 50 strong actors audition for LOVEPUKE.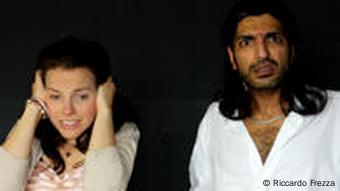 LOVEPUKE looks at the challenges of modern relationships
While there is a good supply of English-speaking actors in the German capital, the audiences remain largely German. At a recent performance of LOVEPUKE, some 70 percent of the spectators were German - theater buffs who come for the love of art, and the challenge of consuming it in a foreign language.
Not yet in the big leagues
The English Theatre Berlin may be a well-established institution, but in the fringe theater scene. Crossing over into mainstream doesn't seem feasible.
"I find there is not a stepping stone system in place between fringe theater and mainstream theater," said Pollack. "I don't know how I would get into mainstream theater in Berlin, but I know in New Zealand: The big people come and see the little shows."
Old traditions like the strict separation of fringe and mainstream theater die hard in Germany, even in a city as progressive as Berlin. However, with the city evolving into an evermore culturally-cutting edge metropolis, the English Theatre Berlin could one day grow to such an extent that it becomes mainstream itself.
Author: Leah McDonnell/kjb
Editor: Greg Wiser