According to reports on "Spiegel Online" on Wednesday, other ministries with the German government have already been sent a four-page document with eleven proposals regarding the "Control of Asylum Migration."
Among the suggestions is a restriction on monetary payments to asylum seekers, which would be replaced with non-cash benefits. Any payment of money would be available only a month in advance as opposed to the current six months.
Under the reported legislative changes, asylum seekers would stay at an initial reception camp for six months instead of the current three. The aim of this particular measure is to enable authorities to deport rejected asylum seekers quicker.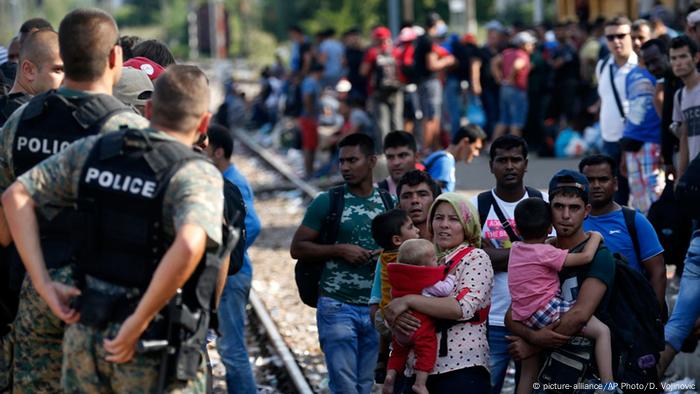 Germany is set to take in a record 800,000 refugees this year
'Countries of safe origin'
De Maiziere's legal package is aimed particularly at people from the Balkan states, who have little chance of being granted asylum in Germany.

Echoing similar proposals last week from German Chancellor Angela Merkel, Germany's interior ministry is also calling for Kosovo, Montenegro and Albania to be added to the "safe" countries of origin. The reclassification of other Balkan countries such as Serbia, Bosnia-Herzegovina and Macedonia has already had an effect on reducing the number of asylum seekers entering Germany.
A spokesperson for Germany's interior ministry said on Wednesday that the proposals where still to be agreed upon by the government.
'Huge challenge'
Germany is just one of the many countries within Europe struggling to cope with the ever-growing numbers of asylum seekers. Thousands of migrants have reached Europe by crossing the Mediterranean by boat. Others are seeking land routes via the Balkans.
In an interview with German broadcaster ZDF last week, however, Chancellor Merkel said that although the hundreds of thousands of refugees that have arrived in Germany since the start of the year presented the authorities with a "huge challenge," the country was not overwhelmed.
The Chancellor added that the European Union was in need of a common policy on asylum - a proposal which has also been supported by French President Francois Hollande.
The issues surrounding the growing number of refugees will be discussed in September at a federal state summit. This year, the federal government expects up to 800,000 refugees.
ksb/jil (dpa, Reuters)