"Cooperation between our two countries is far from complete," Merkel said after her meeting with President Gurbanguly Berdymukhammedov, 51, who took over two years ago after the death of dictator Saparmurad Niyasov.
The one-party state has been criticized by exiled dissidents and human-rights watchdogs.
Merkel stressed that she welcomed Berdymukhammedov's offer to cooperate with Germany on both human-rights issues and liberalizing the Central Asian nation.
Berdymukhammedov said German companies had a good record in Turkmenistan and he hoped for more trade ties.
His delegation of 120 had arrived earlier in the German capital on four aircraft.
Turkmenistan, which borders Iran and Afghanistan and has a Caspian Sea shore, has a population of six million.
German exporters have been active in Turkmenistan, with Siemens Medical and Hospitalia International among the contractors helping to expand health care.
Human rights activists say Turkmenistan remains a repressive state, despite the re-introduction of mathematics and foreign language classes in schools after they were banned by the previous dictator.
Human Rights Watch disappointed by Merkel's apathy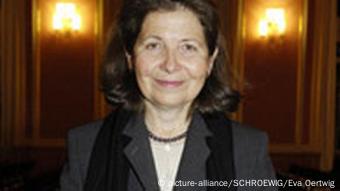 Marianne Heuwagen wanted more criticism from Merkel
The head of Human Rights Watch in Germany, Marianne Heuwagen, said she hoped Merkel addressed rights issues in her private talks with Berdymukhamedov, but expressed disappointment the issue had not been raised more forcefully in public.
"It would have been desirable for Ms Merkel to emphasize (human rights issues) at the press conference," Heuwagen said.
Maria Lisitsyna, a researcher for Human Rights Watch, highlighted in a statement before Berdymukhammedov visited Germany and Austria the fact that basic freedoms are missing from Turkmen society.
"Turkmenistan's people live in one of the most oppressive countries in the world," she said. "This is a chance for leaders of two major European nations to make clear to Berdymukhamedov that closer ties with Europe depend on ending restrictions on human rights in the country," Lisitsyna said.
Human Rights Watch said hundreds of political prisoners remained in Turkmen jails, while "draconian restrictions" on basic freedoms were still in force despite a modest liberalization under Berdymukhamedov.
OSCE labels Turkmenistan as undemocratic
Though elections are due on December 14, the Vienna-based Organization for Security and Cooperation in Europe (OSCE) has faulted Turkmenistan as undemocratic and a one-party state.
It has no legal opposition and all media are state run.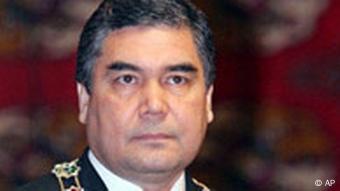 Berdymukhammedov was welcomed in Berlin
European nations hope that the planned Nabucco gas pipeline via Azerbaijan will one day pipe Turkmen natural gas westwards, easing European dependence on Russian gas.
Currently, two thirds of Turkmenistan's annual output of 70 billion cubic meters of gas is sold to Russia.
German diplomats said that cultivating Turkmenistan was a part of the broader European Union strategy in Central Asia.
President Berdymukhamedov expected to travel to Austria for a state visit after his talks in Berlin, including a meeting with Austrian President Heinz Fischer.
The Turkmen leader came to power after the 2006 death of long-time dictator Niyazov, who instituted a bizarre personality cult and drove opposition parties into exile.
Berdymukhamedov pushed through a new constitution in September officially allowing political pluralism and has sought closer ties between his energy-rich country and the West.