Now in its 30th season, the Dresden Music Festival opens on Thursday. Over the two weeks, a host of internationally acclaimed performers -- including pianist Alfred Brendel, cellist Heinrich Schiff and violinist Gidon Kremer -- are set to make appearances in the eastern German city.
The festival will start with a sing-along performance, as it does each year. This year it will be Joseph Haydn's "Four Seasons" oratorio. It will also feature a wide range of events on its program including musical theater, dance, jazz, film, literature and visual arts.
Despite the star power on this year's program, the festival has seen better days. "The most visited classical music festival in Germany is dropping into the middle class," festival director Hartmut Haenchen said in an interview with German news agency dpa.

The city of Dresden has cut the festival budget by 30 percent, forcing organizers to slim down the program to 64 events -- compared to 108 in 2006.
Endangered landscapes
This year's festival revolves around the theme of "Landscapes." Expert-led excursions are on offer, including a trip into Dresden's own natural landscape, the UNESCO protected Elbe Valley.


Renowned pianist Alfred Brendel will perform works from 19th century Vienna
The area is currently in danger of losing its status on the list of UNESCO world heritage sites due to a controversial bridge being built across the valley.
The bridge had been approved by a local referendum in 2005, but UNESCO said it would consider removing Dresden from its list of 830 world heritage sites because the modern construction would have "a serious impact on the integrity of the landscape" of the city.
City leaders in Saxony's capital tried to back-pedal on the bridge project, but their efforts were stalled by a court decision upholding the plebiscite.

"It irritates me that politicians think so short-term," Haenchen said about the 106 million euro ($203 million) bridge project.
Many believe that Dresden -- being known internationally as a city of culture -- should invest more in the festival.
"The city has enough bridges," wrote German Web site Klassik.com in the aftermath of the 2006 festival.

GDR's most prestigious classical festival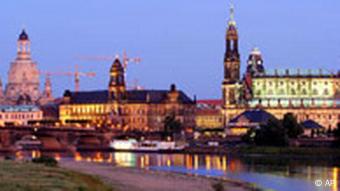 The Elbe Valley was added to the UNESCO list in 2004
Founded in 1978 by East Germany's communist party, the Dresden Music Festival became the GDR's most prestigious classical festival and attracted a great deal of attention from abroad.

World-class soloists like Marilyn Horne and Dietrich Fischer-Diskau as well as top conductors like Claudio Abbado and Zubin Mehta came to the Elbe River city to share their talents.

After Germany's reunification, the Dresden Music Festival continued to prosper, peaking in 2003 with a record 150,000 visitors. Some 140,000 music lovers attended the event last year, but Haenchen said he fears the number could drop to as few as 70,000 attendees this year.

"People play Mozart for cows so they give more milk," Haenchen. "With people, that potential is not being tapped."