The conservative chancellor has flatly rejected her coalition partner's SPD proposal to include a ban on the building of new plants in the constitution in return for their agreement to prolong the operation of existing ones.
"I am in principle very cautious when it comes to changing the constitution. The issue of energy provision has no place in the Basic Law," she said in an interview to be published in the German newspaper Bild am Sonntag this weekend.
Merkel continues to challenge atomic taboo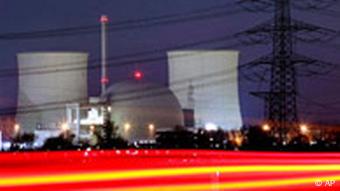 Merkel first broke the taboo last year after Russia's oil pipeline blockade to Europe
Merkel also said she did not believe that Germany could completely do without nuclear power in the foreseeable future if it was also to reach its C02 emission targets. "For the next few years we will not be able to do without coal or nuclear energy," she added.
She vowed to fight "to extend the operation times of our safe nuclear power plants in Germany" and said the issue would arise in the next legislative period at the latest.
The concession to agree to an extension of operation times for some plants in exchange for a constitutional ban on new atomic plants was put forward by SPD politician Erhard Eppler in early July, but rejected by the party leadership.
Nuclear power divides the nation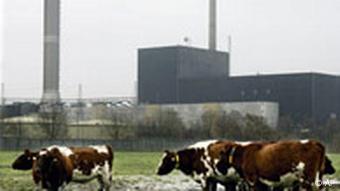 In Germany there were safety scares at two atomic plants in 2007
Social Democrat chairman Hubertus Heil warned his coalition partners against breaking the consensus over the phasing out of nuclear power.
"It is a social debate that split this country for thirty years," he said. Heil said his party's position on the issue was clear. "We are sticking with the agreed phasing out of nuclear power. There is no wobbling there. The conservatives are also aware of that. It is in our coalition agreement," he added.
The SPD chairman said if the CDU wanted to turn this into a election campaign issue that his party would not be afraid to take them on. "What is clear is that there is no such thing as safe nuclear power. And the issue of storing waste has not been solved."
He also stressed that the lengthening of operation times would chiefly serve to boost profits of energy giants rather than filling the pockets of German consumers. "What we really need is investment in power plant technology and in renewable energies and energy efficiency," said Heil.
Unshakeable pillar of green Germany?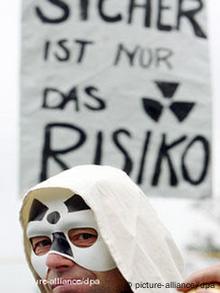 Opposition to nuclear power in Germany has traditionally been very strong
In 2000 former German chancellor Gerhard Schröder and his SPD-Green coalition agreed to completely phase out nuclear power in Germany by 2020 and invest heavily in renewable energies.
With gas and oil prices rocketing and fears about global warming growing, nuclear power is beginning to experience a global renaissance.
In Germany, as well as concerns about securing the country's energy supply and meeting environmental targets, there is also concern that the country's technological knowhow -- and with it potential export opportunities -- are suffering because of the lack of prospects for the nuclear industry at home.