German Interior Minister Hans-Peter Friedrich unveiled a package of measures designed to target the rising tide of criminal and violent neo-Nazi activities, as he met with government ministers and security experts in Berlin on Friday.
The measures are a consequence of revelations last week that a far-right terror cell, known as the National Socialist Underground (NSU), had committed 10 murders, most of them racially motivated, over the past decade.
Authorities are investigating more suspects in addition to 37-year-old Holger G. and 36-year-old Beate Zschäpe, who are currently in custody. Federal Prosecutor General Harald Range has said four suspects are currently under investigation.
Zschäpe's suspected accomplices, Uwe Mundlos and Uwe Böhnhardt, committed suicide in their burnt-out apartment in the Saxon town of Zwickau two weeks ago.
"This could actually amount to a network," said Jörg Ziercke, head of the Federal Criminal Police Agency.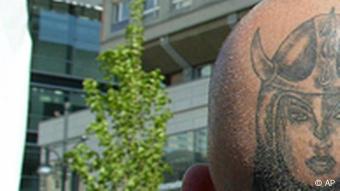 The racially motivated murders may have been supported by a neo-Nazi 'network'
German news agency dpa has reported that the neo-Nazi trio from Zwickau - Zschäpe, Mundlos and Böhnhardt - was in possession of a data device containing the names of 10,000 people, among them politicians, church figures and associations opposed to right-wing extremism.
A total of 120 ministers and experts came together in Berlin to discuss how the investigation into the crimes was progressing and to come up with countermeasures.
"The murders were investigated in earnest, but there were clearly inadequacies at one stage or the other," Friedrich said.
National database, better coordination
Friedrich announced what had already been expected; namely, that the German government intended to set up a national database, similar to the one already in place for Islamists, to monitor far-right extremists and their activities.
In addition, details would be worked out on how to better coordinate the activities of the Federal Criminal Police Agency and the domestic intelligence service, the Federal Agency for the Protection of the Constitution. Discussions still need to be held on how to improve the communication between local police, state and federal intelligence services and the Federal Prosecutors Office.
Justice Minister Sabine Leutheusser-Schnarrenberger said a special working group would be tasked with examining the legal possibilities for banning the far right National Democratic Party (NPD), after a previous attempt to do so was struck down by the country's highest court in 2003.
Author: Gregg Benzow, Spencer Kimball (dpa, dapd, Reuters)
Editor: Martin Kuebler