The center, to be built in Berlin at a cost of around 30 million euros ($46 million) is intended as a "visible symbol against flight and expulsions," according to the government. It will be located near Berlin's famous Potsdamer Platz and will be part of the German History Museum.
A permanent exhibition about an estimated 12 million to 14 million Germans forced out of their homes by Polish and Czech governments in reprisal for Nazi aggression will form the centerpiece of the project.
In addition, the center will also document forced expulsions of other peoples in Europe and the fate of refugees until the present day.
Reservations in Warsaw, Prague
More than 60 years after the end of World War II, the project is intended to foster reconciliation while keeping alive the memory of those who suffered as a result of expulsion.
The center was originally proposed by the League of Expellees, which represents around 2 million Germans forced out of Central Europe, and their descendents.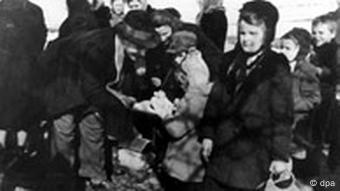 Germans evicted from Poland arriving in Germany after the end of World War II
But efforts to commemorate the expellee experience have proved to be a major irritant in Germany's relationship with Poland and the Czech Republic. Both feared the center would give too much attention to estimated 1 million Germans who died during the exodus and paper over Germany's responsibility for the war.
Warsaw has accused Germany of wanting to turn aggressors into victims.
German officials, however, have said that the center would clearly distinguish the historic context and causes of the expulsions. Germany's secretary of state for cultural affairs, Bernd Neumann said the center would "adequately document" Nazi crimes committed across Europe.
He added that the center would be a step forward in dealing with a "painful part of German and European history."
"Preventing misunderstanding"
Polish criticism of the plans for an expellee center was particularly strong during the conservative-nationalist reign of the Kaczynski brothers. But the election of liberal Polish Prime Minister Donald Tusk last year has largely defused the tensions.
Last month, Poland dropped its long-standing objections to the documentation, following a meeting in Warsaw between Wladyslaw Bartoszewski, a high-ranking advisor to Tusk and Neumann.
In the meeting, both sides "stressed the importance of open historical dialog for Polish-German relations and the need to seek forms that will aid historical truth and prevent misunderstanding."
For Germans, the goal of the memorial is "to represent the historical relationship while at the same time taking the deportation of the Polish people into account," Neumann added.
The German government foresees involving historians from Poland, Hungary and the Czech Republic in the project.