During bilateral consultations back in June 2011 Germany's Development Minister Dirk Niebel urged Addis Ababa to pay greater respect to human rights and to give more freedom to the press. He also took the opportunity to complain about the frequent jamming of Deutsche Welle's Amharic service.
But the minister's admonition seems to have had little impact on Ethiopia. For months, the country has been experiencing a government crackdown on dissent; the rights of journalists, opponents of the regime and civil society activists are being curtailed by an anti-terrorism law, which has been heavily criticized by human rights groups. The latest example is the December 21 ruling by an Ethiopian court that two Swedish journalists were guilty of supporting a terrorist organisation.
Rethinking aid policy
In response, Germany's development ministry says it will decide by March 2012 whether Ethiopia should continue receiving aid totaling 14 million euros ($18 million).
Critics of Germany's aid policy believe the Berlin government already knows what it will do. They argue that Ethiopia will most certainly receive the money, because of its importance for Germany's strategic and economic interests on the horn of Africa. However, the German government is anxiously trying to be seen as maintaining its distance to the Addis regime.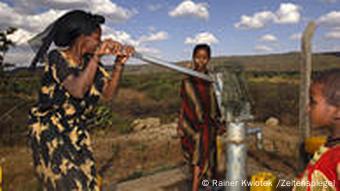 Ethiopia has been one of Germany's favored aid recipients.
Friedrich Kitschelt, an official in the Africa division of the German development ministry, explained that all funds given by the government are meant to foster bilateral cooperation. "This particular sum is intended to boost the private sector and not the public sector of the Ethiopian economy," Kitschelt said.
Deteriorating human rights record
Ethiopian opposition leader and former president Negasso Gidada believes this distinction is purely artificial. He has strongly criticized the German position. "When the Ethiopian government speaks of the private sector, it means supporting those private sectors loyal to the EPRDF party", he said. EPRDF is the ruling political coalition in Ethiopia. Gidada also said that Germany needs to be aware that Ethiopia's government is not really supporting independent private sectors but rather creating hurdles and difficulties for them.
Objections such as these were sufficient to prompt Thilo Hoppe, deputy chairman of the German parliament's committee for economic cooperation and development, to urge Berlin to think carefully before handing out any aid to Ethiopia. "If a country's human rights record is deteriorating as is the case in Ethiopia, then the German government needs to assess whether development aid to that country is essential or not. I personally would only agree to pay out the cash once there has been significant improvement in human rights", Hoppe stated.
The German government has admitted that Ethiopia's democracy suffers from deficiencies. Friedrich Kitschelt noted that 40 percent of Ethiopia's population of 80 million is younger than 18. "It's easy to guess where that could lead before you even mention the words Arab Spring," he said.
However, Kitschelt does not believe that, just because conditions are bad in Ethiopia, Germany should totally pull out. "On the contrary what we can try to do is to open the door to liberalization in the country, and to promote Ethiopia's private sector."
Author: Ludger Schadomsky / cm
Editor: Susan Houlton / mik