In view of the recurring refugee tragedies in the Mediterranean Sea, Germany's Interior Minister Thomas de Maiziere has suggested setting up asylum centers in North Africa.
"In the long run, that solution would make sense," he told the daily Die Welt in an interview Thursday. He suggested creating an option in the North African countries for people to "come to Europe legally," which would at the same time put an end to the illegal transit to the continent. He added it might make sense to start with a pilot project of just one such center, adding that asylum applications could then be vetted and decided on the spot at in North Africa.
It's certainly not a new idea, says Germany's Pro Asyl refugee organization: it's been floated from time to time over the past ten years.
De Maiziere and his European colleagues are basically admitting that there is no legal entry into Europe, said Pro Asyl expert Karl Kopp, noting that would-be refugees are forced to choose a costly and dangerous route.
Migrants at sea
Over the past years, thousands of people have lost their lives trying to cross the Mediterranean, hoping to reach safety and a new life in Europe.
Smugglers and human traffickers demand exorbitant sums for the journey, and they often squeeze refugees into boats that are far from seaworthy.
Earlier this month, the UN refugee agency (UNHCR) sounded the alarm, saying it was shocked at the scale of the most recent tragedy in the Mediterranean, where some 300 refugees were confirmed missing from four dinghies that made it to the Italian coast.
"This is a stark reminder that more lives could be lost if those seeking safety are left at the mercy of the sea," Vincent Cochetel, the director of the UNHCR Europe Bureau, said in a press release. "Saving lives should be our top priority - Europe cannot afford to do too little too late."
Strip smugglers of their source of income
According to the UN agency, at least 218,000 people crossed the Mediterranean in 2014, a trend the UNHCR expects to continue this year.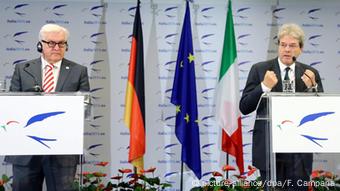 The German and Italian foreign ministers back the so-called Khartoum Process
While the German interior minister's most recent proposal isn't yet on the drawing board, a concerted effort to counter trafficking and smuggling of migrants between North Africa and Europe was made in November 2014.
The EU, Eritrea, Ethiopia, Somalia, South Sudan, Sudan, Djibouti, Kenya, Egypt, Tunisia, the European and African Union Commissioners in charge of migration and the EU High Representative launched an initiative refered to as the Khartoum Process. The aim is to assist participating countries in setting up and running reception centers, and cooperate on identifying and prosecuting criminal networks. Under the plan, refugees fleeing war and persecution would travel on to Europe, while economic migrants would be turned back.
Emergency shelters in school gyms, hotels
Meanwhile, the flood of refugees continues unabated, and cities and towns across Germany are increasingly finding it difficult to house asylum-seekers. Cologne in western Germany, for instance, is currently caring for a record of more than 5,500 refugees and is frantically seeking more housing for the hundreds of newcomers expected to arrive each month this year. Not surprisingly, Gerd Landsberg, chief executive of the Association of German Cities, also favors setting up asylum centers in the refugees' countries of origin.