German authorities said on Friday that a nurse who has not been in Mexico but who has treated a patient with swine flu, had contracted the virus but had since recovered.
It is is the first time that the H1N1 virus has been contracted within Germany, the Bavarian health ministry said in a statement. The other three confirmed infections in Germany are in people who had recently been to Mexico, the suspected epicenter of the disease.
EU rejects travel ban to Mexico
At an emergency meeting in Luxembourg on Thursday, EU health ministers rejected a French proposal to suspend all air travel to Mexico.
"In the current state of the situation, we are not yet taking this decision," French Health Minister Roselyne Bachelot said, adding that the plan may be revisited in the future.
Previously other countries such as Germany and Spain had balked at the flight ban proposal, considering it too drastic and having little value, considering the outbreak had already spread to four continents.
European ministers also shot down an Italian proposal that member states should set up a "drug bank" of flu remedies and vaccines, saying that it was up to each member state to decide how best to deal with health problems.
"I am very much in favor of the suggestion that every member state is responsible for having a sufficient supply of drugs," Germany's Health Minister Ulla Schmidt said as she arrived at the meeting.
The question of whether EU member states should share information on their drugs supplies has long been a divisive one, setting EU member states at loggerheads during earlier scares over bird flu and Severe Acute Respiratory Syndrome (SARS).
Germany's Ulla Schmidt (right) did not see eye to eye with France's Roselyne Bachelot on the issue of travel bans
Don't panic
The hastily arranged meeting in Luxembourg came as a growing number of European countries announced swine flu infections.
Dutch officials said a three-year-old child had become the first confirmed case in the Netherlands, while Irish authorities said they were investigating one likely infection in a young man who recently returned from Mexico.
Swine flu cases are also being treated in Germany, Austria, Britain and Spain.
The World Health Organization (WHO) said that, while it was clear the disease was spreading, it saw no evidence to suggest it should raise its pandemic alert to the highest level. The WHO's six-stage flu alert is currently set at level five.
EU Health Commissioner Androulla Vassiliou warned against panicking over the spread of the potentially deadly virus.
"We have to be careful, we have to exercise vigilance, we should not panic, we have to be prepared," Vassiliou said hours after the World Health Organisation (WHO) warned a pandemic was imminent.
Her spokeswoman stressed that "we do not have any casualties at the EU level yet" and that all cases so far in Europe were "mildly affected and recovering."
She warned against drawing parallels with the situation in Mexico because the state of preparedness was much higher in Europe.
Vaccine development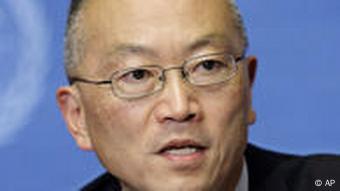 Fukuda says the WHO does not need to raise its pandemic alert level
"On Wednesday, EU health commissioner Vassiliou hosted representatives from a number of European pharmaceutical companies in Brussels, calling on them to develop a vaccine against the new form of swine flu as fast as possible.
It's something that we have to coordinate with member states, because the industry has to receive some directions from member states on what they want," she said as she arrived in Luxembourg.
Asked how long it could take to develop such a vaccine, she said that it would "most probably take several months."
Diplomats said EU health ministers also debated whether they could speed up their national drug-registration programs in order to approve a vaccine faster, once one is developed.
WHO flu chief Keiji Fukuda told reporters that Swiss pharmaceuticals giant Roche has indicated it was stepping up production of its antiviral Tamiflu to deal with the infection.
Known generically as oseltamivir, the drug has proven effective against the new strain.
Fukuda said the United Nations agency has already released some of its own Tamiflu stockpiles to the developing countries deemed most in need, including Mexico.
What's in a name?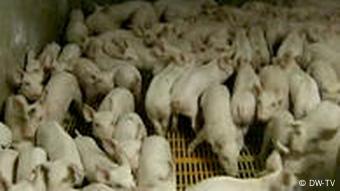 The WHO says the name "swine flu" was hurting pig farmers
The World Health Organization has announced it would stop using the term "swine flu" to avoid confusion over the danger posed by pigs.
WHO spokesman Dick Thompson said the name change came after the agriculture industry and the UN food agency expressed concerns that the term "swine flu" was misleading consumers and needlessly causing countries to order the slaughter of pigs.
"From today, WHO will refer to the new influenza virus as influenza A (H1N1)," he said.