The German government approved on Wednesday a draft law to bolster the number of organ transplantations amid a record low in the number of donations.
Health Minister Jens Spahn, a member of Chancellor Angela Merkel's conservatives (CDU), said the bill would save lives by improving organ transplantation procedures in hospitals across the country.
Read more: German patients turn to Croatia for organ donations
What the bill does:
Some 1,300 hospitals where transplantations are performed would receive a higher remuneration.
Mobile units of experts would be introduced to help smaller hospitals that are unable to perform transplants due to a lack of in-house expertise.
The workload for medical professionals known as "transplantation representatives" who are tasked with identifying and processing organ transplants would be lessened.
Representatives would receive greater access to patient data and the right to enter intensive care units. They would also be notified after a doctor identifies a patient as a potential donor.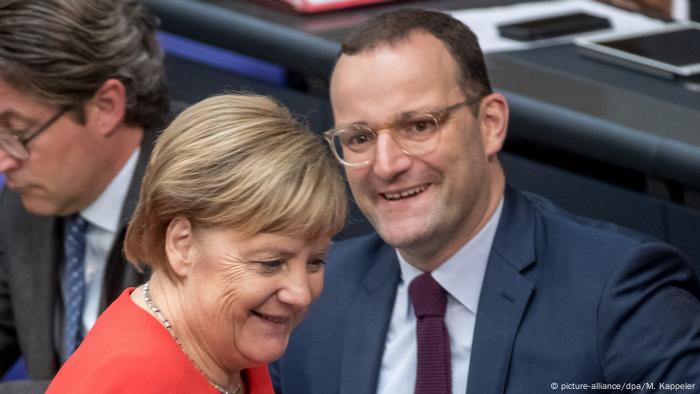 Health Minister Jens Spahn is considered a contender to replace German Chancellor Angela Merkel at the head of the Christian Democratic Party (CDU)
The number of donors in Germany has fallen since 2012. Only 797 people donated their organs in the entire country in 2016, a new low, according to the German Foundation for Organ Transplants.
"We owe it to the 10,000 people who are waiting for a donor," Spahn said.
Fear and confusion about confidentiality
The German Foundation for Protecting Patients welcomed the law. But it warned against allowing transplantation representatives unrestricted rights to access patient files before a potential donor has died, according to news agency DPA.
The foundation's head, Eugen Brysch, said the concern arose because the draft law mentions that any medical professional could become a transplantation representative.
Spahn had claimed that representatives would fall under strict data protection regulations because they were doctors, despite the draft law mentioning that a representative "need not be a doctor."
Read more: Scientists announce huge leap toward pig-to-human transplants
Spahn: Let's make everyone a donor
The Bundestag, Germany's federal parliament, must pass the bill for it to become law. The Health Ministry expects it to enter force in the first half of 2019.
The bill follows Spahn's more radical proposal in an interview with German daily Bild for introducing a "dual opt-out" donor system to improve the country's poor transplantation rates.
People currently have to consent to becoming a donor before they die. A "dual opt-out" system would automatically make everyone a registered donor. Only people who revoke consent during their lifetime or whose family members oppose a donation after death would then be exempt from donating.
Each evening at 1830 UTC, DW's editors send out a selection of the day's hard news and quality feature journalism. You can sign up to receive it directly here.