A spokesman for Germany's prosecutor's office said on Sunday that a probe was underway to investigate a claim made by the "Islamic State"-run Aamaq news agency that one of the terrorist group's "soldiers" had carried out the attack on October 16.
"We have taken note of the statement and have to investigate its content accurately for its reliability," the spokesman told the DPA news agency.
In the incident, an unknown male assailant attacked two teenagers sitting under a bridge on the banks of Hamburg's Alster lake from behind, repeatedly stabbing a 16-year-old boy, who later died of his injuries, and pushing a 15-year-old girl into the water. She was rescued uninjured.
The claim carried by Aamaq, which is commonly used by "Islamic State" (IS) for this purpose, asserted, however, that two people were knifed in the attack.
"A soldier of the Islamic State stabbed two individuals in Hamburg city on the 16th of this month," the release said, saying the attack was carried out in response to "calls to target the citizens of coalition countries" that are fighting the group in Iraq and Syria.
Hunt still underway
German police are still looking for the attacker, described as aged between 23 and 25 and of "southern" appearance.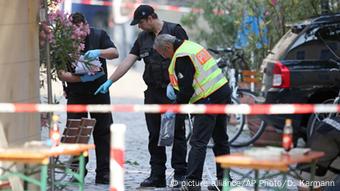 Police investigators in Ansbach
Germany, whose air force is taking part in the anti-IS bombing campaign in Iraq and Syria with in-air refueling and reconnaissance flights, has experienced lone-wolf attacks claimed by the group over the past few months.
In July, IS claimed to be behind a suicide-bomb attack in the southern city of Ansbach in which 15 people were wounded, as well as an ax attack in a train that left five people hurt near Würzburg. Several apparent plots to carry out large-scale attacks have also been foiled.
Experts say, however, that it is not clear how close the connection is between the IS group and attackers who sometimes proclaim allegiance to it.
Fears have recently grown that the Islamist extremist group might execute more attacks in Europe as it comes under increasing pressure in its heartland of Syria and Iraq, with regional and international forces carrying out targeted operations to disperse it.
tj/jlw (AFP, dpa, Reuters)