In towns along the Polish-German border, people learned years ago to forget that there is a border between the two nations at all. Poles and Germans have been crossing the frontier without passport checks since 2007, and the two peoples here mingle harmoniously on a daily basis.
But up until now Poles have not been allowed to seek a regular job in Germany because German politicians seven years ago held off on allowing new European Union members full access to the German labor market after the EU's 2004 expansion.
On May 1, the doors to Germany's job market are set to open for Poles and citizens of seven other European countries - the Czech Republic, Estonia, Hungary, Latvia, Lithuania, Slovakia and Slovenia - causing widespread fears among ordinary Germans that the new arrivals, particularly from Poland, might snatch away many jobs. Especially in the low-wage sector, an influx of immigration from eastern Europe could mean a lowering of wages.

Polish workers are often employed in the German construction industry
Opening options
In a huge vocational training center in the eastern German town of Frankfurt/Oder, near the Polish border, a group of apprentices are being trained for jobs in the building sector.
Companies in some parts of eastern Germany simply can't find enough suitable German workers anymore, and so it seems only logical that the training center has also been welcoming apprentices from Poland, among other nations. Several of the young Polish apprentices say they are willing to consider working in Germany.
"I'm going to study first, and then I'll look for a job - maybe in Germany," said one apprentice named Julia, who added, "In Germany you've got a better chance to work, find employment and earn more money."
Another apprentice, Marek, said Poland is his home, "but I know a lot about German culture as I've already lived here. And I'm willing to go abroad for a job."
'Manpower needed'
Some employers are already looking forward to the liberalization of the labor market. Dieter Kapell, who heads an organization of small and medium-sized German companies in Berlin and the surrounding state of Brandenburg, believes the future is bright for his companies and for foreign labor.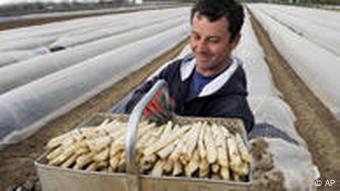 Eastern European laborers help out with the asparagus harvest
"In the last ten to twelve months we've had a very positive economic development here in Germany. The training of employees is very important, and we need manpower everywhere," he said.
Germany's ambassador to Poland, Rüdiger von Fritsch, agrees that Germany opening its doors will be purely beneficial.
"Anyone looking closely at the situation is actually eagerly awaiting the first of May," he said. "On both sides, the economic situation is developing so rapidly that we surely need additional workers and capital for investment. Companies particularly in eastern Germany are looking for skilled Polish workers willing to work in Germany."
"There will be a further boost to our relations," he added.
Low-earners threatened
While there is a shortage of skilled laborers in Germany, border-crossers will not only be looking for high-level jobs. According to Doro Zinke of the German Trade Unions Association, eastern Europeans with poor job qualifications may indeed be competition for Germans who have jobs or are looking for jobs in the low-wage sector.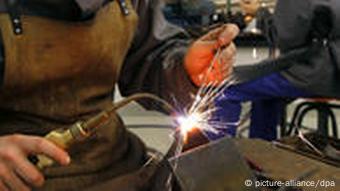 Germany has a shortage of skilled workers
"We have collective contracts here, but they are not valid for all industries," she said. "The labor market has never been more deregulated than it is now, and this is our problem today. But it's clearly a home-made problem."
The issue has also struck a chord with the economics minister in Berlin's regional parliament, Harald Wolf, who said that an influx of foreign unskilled workers could hurt Germans, who still do not benefit from a legal minimum wage.
"We still have a debate in Germany that people from most of Europe and the United States can only laugh about," Wolf said.
Brain drain
And then there's the Polish side of things. Robert Marcinkowski, a local councilor from Poland's Gostyn region, says an open German labor market could have a negative impact on Poland, which already experienced a first exodus of skilled workers to Britain, Ireland and other nations where restrictions were not initially imposed.
"Our entrepreneurs cannot rule out that developments after May 1 may lead to an even greater shortage of skilled workers at home, with many skilled workers probably heading toward Germany," he said.
However, Marcinkowski said he "wouldn't overestimate those fears."
"I'd even go so far as to say that the majority of Poles willing to work in Germany already are in Germany," he added.
Author: Hardy Graupner / dl
Editor: Rob Turner