Born in 1917 in Denmark as the daughter of a Danish doctor and a German schoolteacher, Margarete Mitscherlich studied medicine in Munich and Heidelberg, trained as a psychoanalyst and spent many years working in that field with her husband, Alexander.
Their book "The Inability to Mourn," published in 1967 in the midst of the Cold War but before the 1968 student movement took hold, was provocative and touched on the taboos Germans had long nourished.
"The Inability to Mourn" was a polemic document and a key text that not much later jolted the country's students into taking to the streets in protest not only of antiquated traditions at German universities but also to draw the attention of their parent's generation to what had become a collective suppression of guilt in Germany, the non-existent coming to terms with the Nazi era and the false return to an ostensible normality.
It was also a difficult book and misunderstood by many. Margarete and Alexander Mitscherlich explored why "the era of the Third Reich was only inadequately critically examined."
Politics and psychoanalysis
In their research, the couple applied the principles of psychoanalysis, a discipline that had disappeared from post-war Germany as its representatives were expelled or murdered. Margarete Mitscherlich, born Nielsen, had trained as a psychoanalyst in the 1950s in London and her husband in 1960 founded the Sigmund Freud Institute in Frankfurt that was to become a center of intellectual discourse in what was then West Germany.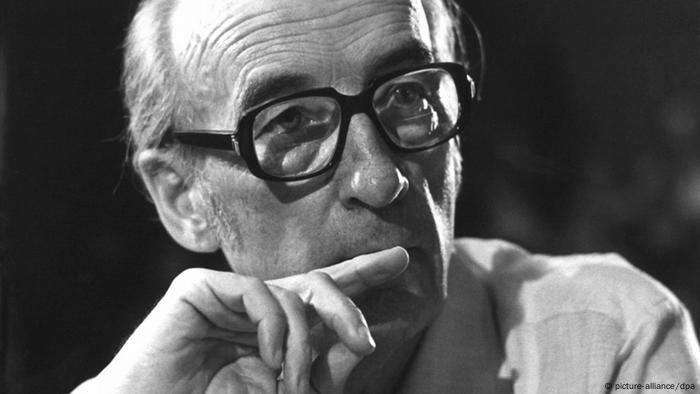 Alexander Mitscherlich founded the Sigmund-Freud Institute in Frankfurt/ Main
The Mitscherlichs confronted Germany with a bitter testimonial that many found difficult to bear: Germans, they wrote, are indifferent and lethargic; they lack empathy for the victims of the Nazi genocide and are caught up in "nationalist self-centeredness."
Inability to accept the consequences
Guilt, shame and in particular grief over the loss were dismissed, they wrote. The overwhelming majority of Germans regard the Nazi era as a kind of "infectious childhood disease" - suddenly, only Adolf Hitler and a few leading figures were to blame. The Mitscherlichs came to the conclusion that post-war Germany saw rebuilding a functioning economy as its first priority, much more so that building a democratic state after the years of dictatorship and terror.
These were theories most people in Germany didn't want to hear in those years; people were busy with the country's "economic miracle," and they didn't want to look to the past but to the future. Their view of the world was clear: the enemy stood in East Germany - behind a wall topped with barbed wire.
Margarete Mitscherlich and her husband addressed yet another West German taboo by criticizing as false, illusionary and even dangerous the manner in which Germans were handling the consequences of the war they had started, consequences such as the division of Germany.
The psychoanalysts said Germans lacked the desire to recognize reality and insisted on being entitled. The writers diagnosed the "German trait of loving, without compromise, what is unreachable" and said Germans were oriented toward the unreal. Their thoughts caused an uproar in some circles of German society years before Chancellor Willy Brandt initiated the normalization of ties with Eastern Europe, and before reconciliation with Poland and the signing of a treaty establishing basic relations with East Germany.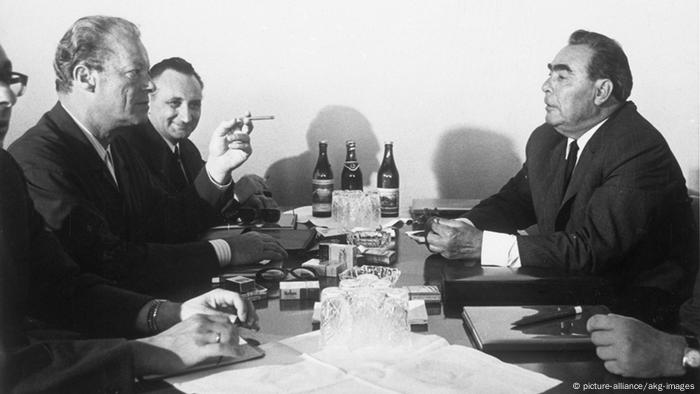 The unthinkable became true in 1971: Willy Brandt holds talks with Soviet leader Leonid Brezhnev
"The Inability to Mourn" was a signal, and the start of Germany's coming to terms with its past, triggering what today is called a culture of remembrance: the painful and tough efforts spanning many years that have made Germany a model for other countries, efforts that command respect from many states worldwide.
Vocal and humorous
Margarete Mitscherlich, a vocal, self-deprecating intellectual, continued to publish after the death of her husband and co-author in 1982. Not just books, but scientific essays and occasional articles for a women's magazine.
Renowned as an intellectual representative of a feisty feminism, she wrote "The peace-loving woman" in 1985 and five years later "About emancipation's hardships," published a magazine and worked as a psychoanalyst in Frankfurt. She is said to have held therapy sessions there until recently. Visitors to her home say a doll was perched on her sofa - undeniably Sigmund Freud.
Margarete Mitscherlich, who died a few weeks before her 95th birthday, clearly had a sense of humor.
Author: Cornelia Rabitz/ db
Editor: Sean Sinico