At first glance, it seems like a school's craft room. Several large tables stand in the middle, and shelves and cabinets filled with paints, bits of wood and tools line the walls. Homemade ornaments perch on window sills. People are busy rasping, sanding, polishing and painting.
"It's very quiet today, but that isn't always the case," says Christian Bosnic . "We've almost finished our projects for the Christmas fair." Bosnic works with wood in a charitable workshop in a southern suburb of Cologne, one of 700 such facilities for persons with disabilities in Germany.
Bosnic enjoys his work. The 24-year-old started a traineeship at the Cologne complex a year ago. Seated, no one would know he has a disability. "I have spasticity on my right side, but only in my leg." The young man has tried other jobs, but he feels much more comfortable in the Cologne workshop.
Employed, but poor
Bosnic makes 5.11 euros ($6.94) – not per hour or day, but per month. He'll make more once he's finished his training. "Wages here start at 75 euros per month , and go up to 800 or 900 euros, but the national average is about 230 euros," says Engelbert Becker, the head of the facility. It's not enough to live on, so the state steps in to supplement the income. In the end, employees are looking at an income slightly higher than the state-funded basic minimum.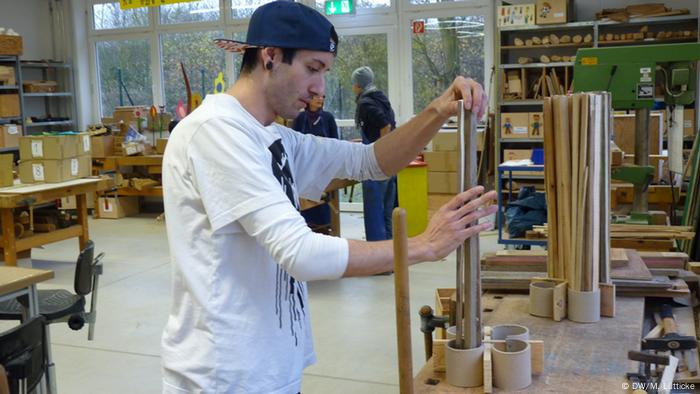 Workshop jobs are meant to be a stepping stone into the regular job market
Becker would like to pay higher wages. "But the problem is we are a business, and I can't pay more than the people produce," he says. Workshops that employ disabled people compete on the market with other businesses - they have to take orders and fill them like any other firm. The Cologne workshops make more than Christmas ornaments for the fair: they produce parts for the automobile industry, window frames and support units for solar modules.
The workshops are meant to be a stepping stone into the regular job market. The reality is quite different, however. Less than 10 percent of the trainees find a job elsewhere, Becker says. "Most of them just don't stand a chance, and many don't feel the need."
Labor market opportunities
German businesses are required to fill at least 5 percent of their workforce with disabled people. But many companies disregard the quota and pay an equalization levy instead, a practise that Ilja Seifert opposes.
"If you don't adhere to a law, you must be punished," says Seifert, the chairman of Germany's General Association for Persons with Disabilities (ABiD). "It's unacceptable that people can buy their way out of it."
Seifert urges businesses to rethink their approach. Sometimes, he says, people end up disabled due to their jobs. Increased workloads should be reduced, he says, adding that it's absurd that heavy workloads should lead to mental illness. "And then, people can only work in a workshop because there's less pressure there." To that end, Seifert concedes, long-term social change is necessary.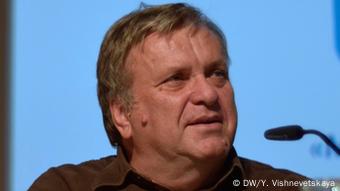 Seifert says Germany is headed in the right direction
The right to participate
Problems on the job market are but one issue that threaten disabled people with poverty in Germany. The need for care and assistance is another. At present, those affected are largely left to their own devices.
"At first, you have to use up your own money, and then your family's," Seifert explains. A solid earner who marries a person with a disability is accountable for his spouse and can have no more than 2,600 euros left in his bank account before social services finally steps in to foot the bill for assistance. That practice contradicts the UN Convention on the Rights of Persons with Disabilities, says Seifert - a treaty that defines the right to be included in the community and participate in public and political life.
Participation calls for more than money and a job, of course. And Germany has made great progress in many ways, says Seifert. "Twenty or 25 years ago, no one would have thought you could navigate urban public transport easily in a wheelchair," he says. Today, that barely poses a problem. The bus driver "tilts the bus and you simply get onboard," an achievement that disability organizations fought hard for.
Seifert says that on an international scale, Germany ranks in the middle. The situation for disabled people is clearly worse in Eastern Europe, while Scandinavian countries are very progressive. But Germany is headed in the right direction, at least according to Seifert. "Things are improving bit by bit, not quickly enough for me, but we're moving ahead."