Chinese Premier Wen Jiabao said Thursday that resolving the European debt crisis was 'urgent' and called on the international community to work together.
Speaking at Beijing's Great Hall of the People following talks with German Chancellor Angela Merkel, who is on three-day visit to China, Wen said Europe was of "strategic importance" to his country. He said China was considering greater involvement in the European Financial Stability Facility (EFSF) and the 550-billion-euro ($724.6 billion) European Stability Mechanism (ESM), due to take effect in July.
Wen refrained from making any specific financial commitment, saying China was still considering how it might give further support to the struggling eurozone. He said, however, that Beijing would support Europe's efforts in stabilizing the euro.
In the joint press briefing, Merkel said it was important to further develop the "strategic partnership" between Germany and China and advance "friendly cooperation."
Merkel also met with Zhou Xiaochuan, governor of the People's Bank of China, and Lou Jiwei, head of the $400-billion (303.6 -billion-euro) China Investment Corporation.
Three-day tour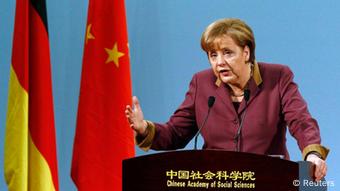 Merkel also touched on the situation in Iran and Syria in her speech
Merkel kicked off her three-day visit to China in Beijing on Thursday morning, arriving with a large business delegation and members of parliament from all the major German political parties.
Shortly after her arrival, Merkel gave a speech on economic and financial policy to a state-run think tank in which she addressed China's role regarding Iran's nuclear ambitions. She urged China, as one of five veto-holding permanent members of the United Nations Security Council, to use its influence to steer Iran away from its nuclear ambitions.
"The question is more how China can use its influence to make Iran understand that the world should not have another nuclear power," she told the Chinese Academy of Social Sciences (CASS), calling on China to press Iran to be more "open and transparent."
She also touched on the European debt crisis, a topic likely to dominate her visit, saying the EU was "on track" to financial recovery.
"Europe is growing closer together in the crisis," said Merkel. "Every country has to do its homework, but we're staying united, because a collective currency should be defended collectively."
On Friday, Merkel plans to visit German companies in the southern province of Guangdong and meet with President Hu Jintao, where she is expected to speak on a wide range of international economic and political issues, including China's human rights record.
This is the Merkel's fifth visit to China since becoming the German chancellor in 2005.
cmk/mz (dpa, AFP, Reuters)