In a new push to solve the May 1996 murder of a German schoolgirl, the first of around 900 men had samples of their DNA taken on Saturday at a school in the western town of Grevenbroich.
The men were between 14 and 70 years old at the time of 11-year-old Claudia Ruf's killing and lived nearby.
Investigators requested that the men undergo saliva swab tests and answer questions relating to her gruesome killing.
Later, police said that by the end of the first day, 480 men had given their DNA samples. The testing was expected to continue on Sunday and next weekend. The results are expected in four to eight weeks.
Read more: Germany plans to use fake child porn to snare pedophiles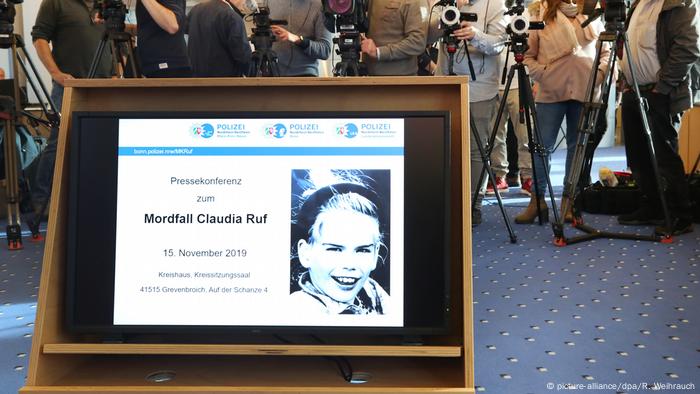 Investigators say the murder of Claudia Ruf is one of their most mysterious unsolved cases
Residents of the tranquil German town were left devastated by the brutal murder of Ruf, who was kidnapped, raped and choked to death while taking a neighbor's dog for a walk. Her body — which had been doused with gasoline and burned — was found two days later, some 70 kilometers (43 miles) away, near Bonn.
A huge investigation into her murder followed, with posters of the young girl put up on buses and trains to prompt public help. Despite a reward being offered, the case remains unsolved.
Earlier test led nowhere
Investigators already unsuccessfully tested some 350 men's DNA in 2010. They say they now have new clues that could help them find the murderer by checking the 900 men.
Read more: 'Far-right prepper' goes on trial in Germany
Horst I. was one of those who gave a sample on Saturday. He was 27 years old at the time of the girl's murder.
"It was just horrific," he told Germany's DPA news agency. "It could have been my daughter; they were the same age."
Horst said that it was the duty of the local men to take part and that he hoped Ruf's family would eventually get closure.
New appeal from father
Earlier this month, the murdered girl's father addressed the public in a new video and asked them to help solve the puzzle surrounding her death.
"After more than 23 years, there's a big opportunity to solve the sad fate of my daughter,'' Friedhelm Ruf said. "The perpetrator has, for too long, been able to hide behind us all.''
Read more: Children's rights make uneven progress in Germany
Evidence grows
Reinhold Jordan, head of the homicide department of the Bonn police, said the investigation had revealed that the offender did have a close relationship with the town.
He said he believes the murderer could have used a cellar, garage or shed to carry out the crime.
More than two decades after the killing, police remain tight-lipped over why Ruf's body was found 70 kilometers away.
"We will demand an explanation from the perpetrator, if we find him," murder profiler Andreas Müller told the Rheinische Post.
mm/sms (AP, dpa)
Each evening at 1830 UTC, DW's editors send out a selection of the day's hard news and quality feature journalism. You can sign up to receive it directly here.