The German word "Volksverräter" - traitor to the nation or people - has its roots in dictatorships such as the Nazi regime, jury head Nina Janich said Tuesday in Darmstadt. The linguist announced this year's so-called "Unwort des Jahres," which literally means "unword of the year."
When used to criticize politicians, the word is "undifferentiated and defaming in such as way that it makes the type of discourse that is essential to democracy impossible," added Janich.
The "Unwort des Jahres" title, established in 1991, is meant to bring to light the media's use of language and to advance awareness of words which violate human dignity and the principles of democracy or lead to discrimination.
The annual prize remained under the aegis of the Society for German Language until 1994, when its jury declared its independence. Anyone may propose a word, and the jury makes the final decision.
Many submissions referred to refugee crisis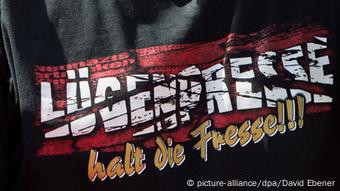 "Liar press" was Germany's buzzword of the year in 2014
This past year, 594 words were submitted for consideration. Many of those in the running were associated with the refugee crisis. A jury member said ahead of Tuesday's selection that three-quarters of the final 20 terms were associated with migrants, such as "rapefugee" - a derogatory expression that refers to the sexual assaults that took place on December 31, 2015 in Cologne and other cities.
Other Nazi-related words were also considered, such as "Umvolkung," describing the process by which the German population is replaced by migrants, causing the country to lose its own language and cultural identity.
Both the "unword" of the year and the Word of the Year reflect the current political climate in Germany and around the world. "Postfaktish" - post-truth - was dubbed the Word of the Year in December 2016, a reference both to Donald Trump's political campaign and the global growth of emotion-driven rather than fact-driven politics.
Last year's "Unwort des Jahres" was Gutmensch. Often translated into English as "do-gooder," it was selected because, in connection with the refugee crisis in Germany, it defamed "tolerance and helpfulness as naive, dumb and worldly innocent, as having a helper syndrome or as moral imperialism," jury president Nina Janich told the press.
"Lügenpresse," or liar press, was selected in 2014. The expression was popular among supporters of the German anti-Islamization movement PEGIDA, which asserted that the mainstream media were untruthful and biased in their reporting about PEGIDA and issues that concern the movement.
kbm/eg (dpa, AFP)